T. Harmon Parkhurst's Final Frames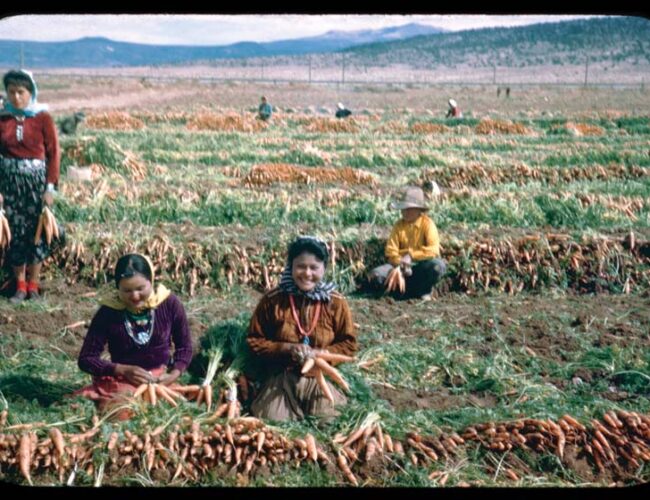 BY DANIEL KOSHAREK
T. Harmon Parkhurst, one of the great photographic chroniclers of New Mexico in the early twentieth century, left the state for California in 1951. He had been gored by a bull while photographing a rodeo and moved to recuperate with his children. He never fully recovered and died on August 14, 1952, in California.Before he left, Parkhurst had begun experimenting with first-generation Kodachrome color transparency film. He took advantage of its brilliant color-saturation capabilities when photographing subjects such as Pueblo dances, fiesta parades and costumes, landscapes, and this series of harvest photographs. Approximately 1,000 Kodachrome color-slide images Parkhurst created from 1939 to 1950 were donated to the Museum of New Mexico by his daughter Ruth in 1974. They represent some of his last photographic work in New Mexico — the final entries in a vast oeuvre that spanned over forty years and a range of photographic media from glass-plate negatives to color transparencies.
Parkhurst arrived in New Mexico in 1910 as part of a Smithsonian Institution expedition to Santa Rita de los Frijoles (now Bandelier National Monument). Following that project he was hired by Jesse Nusbaum at the Museum of New Mexico, where he worked as a photographer from 1910 to 1915. Initially self-taught, Parkhurst learned so much from Nusbaum that he left the museum to open a studio in Santa Fe in 1915, launching a long and distinguished career as a commercial photographer.
In a 1926 letter on Landmarks Club of California letterhead addressed "To Whom It May Concern," legendary photographer Charles F. Lummis endorsed Parkhurst's photographic skills with these words: "I rate Mr. Parkhurst a thoroughly scientific photographer in his chemistry, methods and with a very uncommon artistic sense for composition, light, color and value."
A photo by Parkhurst graces the cover of the February 1935 New Mexico magazine, and a note inside states, "Mr. Parkhurst has the reputation of being the most patient photographer in the state. He will wait a day, or two days, or even a week, if necessary, to get just the right light and shadows before he snaps the shutter." This patience is evident in Parkhurst's skill in using the new medium of color transparencies in his graceful and elegant photographs of harvest time at the pueblos.
Daniel Kosharek is curator at the Palace of the Governors Photo Archives / New Mexico History Museum, a frequent contributor to El Palacio, and author of the Framework column.