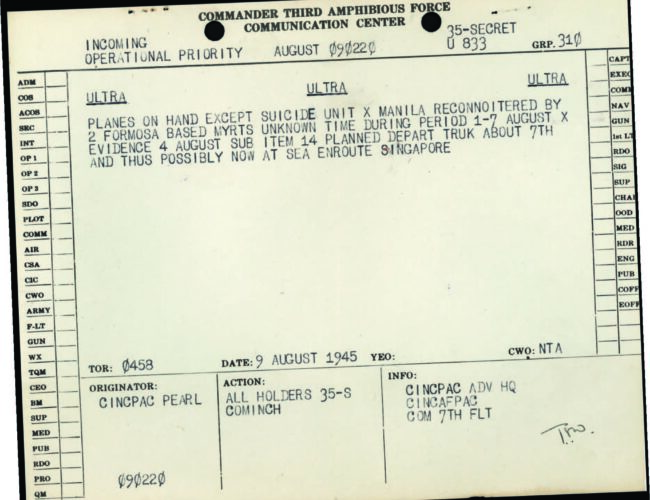 BY THOMAS LEECH
In a sheet of paper the immeasurable strength of a human being is concealed.

– Kuo Hamada
Of all the thousands of book pages and other sheets of paper that have passed through my hands, none has had the power to stop me in my tracks and make me pause at the dark abyss of history as much as a pair of small, telegraphed cables that reveal, and perhaps foretell, the unimaginable and truly immeasurable strength of human beings.
Marked by Allied radio-intelligence codebreakers as "SECRET" and "ULTRA ULTRA ULTRA," the two cables are intercepted, decoded, and translated Japanese radio communiqués that describe the destruction of Hiroshima by a "new type of bomb" on August 6, 1945. The first reads:
80% OF CITY OF HIROSHIMA DESTROYED MORNING 6 AUGUST AND CASUALTIES ESTIMATED AT 100,000 PERSONS . . . REPORT MENTIONS 2 OR 3 B-29S OVER CITY ABOUT 0825 AT HIGH ALTITUDE APPARENTLY DROPPING A WHITE OBJECT ALONG WITH BOMBS . . . TERRIFIC EXPLOSION OCCURRED AT ALTITUDE 500–600 METERS AND CONCUSSION DESCRIBED AS BEYOND IMAGINATION DEMOLISHING VIRTUALLY EVERY HOUSE IN CITY . . . ONLY PART OF WESTERN SECTION OF CITY ESCAPED DISASTER
. . . RELIEF SQUADS TROOPS MEDICAL SUPPLIES SENT TO ASSIST IN RESCUE WORK . . . STOCKING UP OF MEDICAL SUPPLIES FOR TREATMENT OF BURNS URGED . . . REPORT ALSO INCLUDES REQUEST FOR ANY INFORMATION REGARDING THIS NEW TYPE BOMB
Dated August 9, the second cable discusses military deployments of Japanese forces and also "Blue Forces," meaning US Naval forces. But it ends with:
NIL [no] NAVAL RADIO TRAFFIC NOTED FROM NAGASAKI
We know what the sender of the telegraph did not, that Nagasaki was bombed at 11 o'clock that very morning.
The original intercept was decoded at Pearl Harbor and distributed throughout the Pacific Fleet. During the war, every recipient of such decoded ULTRA documents, including the president, was prohibited from keeping, copying, or making public reference to them. Thus these documents are rare indeed, and but for nearly 3,000 boxes of intercepted enemy radio transmissions stored at the National Archives, might not exist in any other collections.
In 2009 the New Mexico History Museum was approached by our friend Kimberly MacLoud about the cables, which she found in her father's papers after he passed away. Kimberly visited the new History Museum shortly after it opened, and thought the cables should become part of our collection and offered them as a donation. Her father, Loren Cloudsley French, manned a naval communication post and received these dispatches aboard a destroyer in the Pacific. Perhaps he sensed that these communications foretold the end of the war, and perhaps that is why he chose not to destroy them. Even though decades had passed between the detonations and when we accepted the cables, it was still necessary to contact the Department of the Navy to have the transmissions declassified.
As the seventieth anniversary of the end of World War II is celebrated this summer, it is worth noting these small but astonishing paper artifacts. That their haunting message has come back to New Mexico, where the atomic bomb was born, is most appropriate. n
Thomas Leech is the curator of the Press at the Palace of the Governors. The most recent publication of the Press is And So It Is Over by Ernie Pyle. He is a co-curator of Fading Memories: Echoes of the Civil War (see page 84).