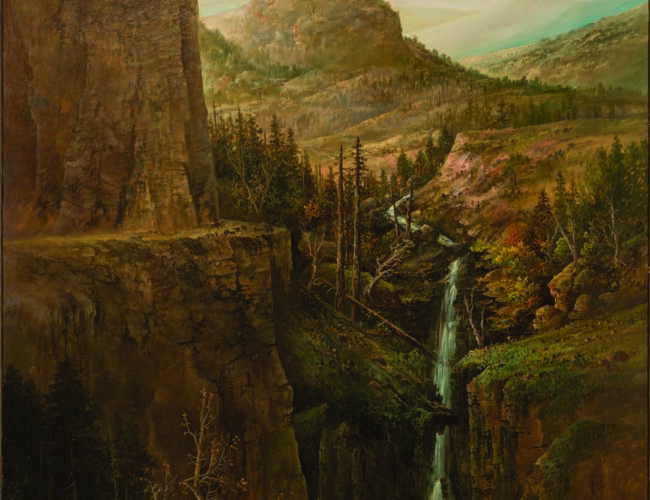 BY CARMEN VENDELIN
Contemporary artist Beverley Magennis, describing her first foray into New Mexico in 1975, said, "Roswell blew my mind. I had never been out west. From the minute I set foot in New Mexico I knew I'd never leave. There seemed to be the right amount of space, the right amount of sun."
Magennis's exuberant ceramic work is included in Colors of the Southwest, an exhibition at the New Mexico Museum of Art that celebrates the love of color that has united artists across a wide spectrum of styles and eras. For generations, artists have come to the Southwest, and northern New Mexico in particular, drawn by the uniqueness of the landscape and its special qualities of color and light, characteristics that have come to define the art of the American West.
The artwork in this exhibition represents a wide variety of work from artists born in the Southwest and elsewhere. The colors in the works on view, some of the most visually stunning in the museum's collection, range from dramatic contrasts to subtle harmonies. While focused on the southwestern landscape in all its pageantry, the exhibition also encompasses portraits, animals, still lifes, abstractions, and townscapes, and demonstrates the broad love of color that Southwest artists share.
The exhibition features work from the twentieth and twenty-first centuries; however, the museum also holds a few examples of nineteenth-century southwestern landscapes. In general, palettes were more restrained and landscape art in particular tended to favor dominant brown tonalities before Modernist art styles embraced pure hues. Still, even in the earlier generations, we find artists who either came to the region with a firmly established love of color or who blossomed into colorists once they were here.
It is instructive to look at one such work that demonstrates the elements that attracted earlier artists to the Southwest and shows their approach to utilizing color on a canvas. One large nineteenth-century example that did not make it into the exhibition (in part because of limitations of wall space) is Joseph Hitchins's Falls in the Colorado Rockies, ca. 1875. Hitchins was born in Britain in 1838 and raised and educated there, before settling in Pueblo, Colorado. His work is distinctively nineteenth century and yet shares with later work in the exhibition an appreciation for what is unique about the Southwest. Hitchins was particularly credited for his atmospheric and cloud effects, "blending of colors, and selection tones."²  His attentions to subtle variations of color show his sensitivity toward the unique qualities of his adopted home.
In the nineteenth century, Hudson River School artists such as Thomas Cole had already taken to creating oil sketches outdoors following British painter John Constable's example. A more seismic shift in approach to directly painting outdoors, however, would come from the French Impressionists, and particularly Claude Monet's cataloguing of the effects of season and hour on a constant subject such as in his haystack series. In this exhibition, many artists faithfully render local colors specific to the geography, affected by climate, time of year, and time of day. The sun in northern New Mexico, for example, imparts extremes of vivid colors and muted, hazy, sun-bleached effects. Subjects in this exhibition are recognizably southwestern not only for their rock formations, flora, and desertscapes, but also for the characteristic qualities of color and light that define the seasons and time of day in this part of the country.
American artists studying in Europe before World War I were exposed to both the academic tradition and new trends. The Impressionist interest in temporal effects intersected with an emphasis on exploring pure color in Modernist art. Impressionist and Post-Impressionist artists read the scientific/semiscientific writings on color of their contemporaries Eugène Chevreul, Ogden Rood, and Charles Henry and applied many of the scientific/philosophical principles to their art practice. So we see artists thinking about the mechanics of vision; the differences between colors in the light spectrum and pigments which absorb and reflect light; playing with color contrasts and the ways that our perception of one color will change depending on the hue placed beside it; and making the eye optically mix pure hues rather than physically mixing tones, as in the work of Neoimpressionists such as Georges Seurat. Late-nineteenth-century Post-Impressionist Symbolists and early twentieth-century Expressionists, such as the Fauves, also explored ways of using color nonobjectively. That is, instead of depicting what the retina sees, colors would be chosen for their expressive potential. This led to a new freedom in allowing areas of unmodulated (flat) color to define forms.
Although not all artworks in Colors of the Southwest fall under the category "modern," color itself was central to the Modernist project of reducing art to its elements (line, form, color), and the suitability of the Southwest for Modernists is an obvious thread throughout the exhibition. A prime example of Modernism in Southwest art can be seen in Yen-see-do, painted shortly before 1919 by Louise Crow. The planes of color in her sitter's outfit boldly flatten the form against the picture plane, while the blue mountains and dramatically defined planes of the sitter's face give a sense of distance and depth.
Artists in the Southwest have continued to play with color in ways both intellectual and intuitive. Native American Pop/AbEx artist Fritz Scholder said of his method, "I consider myself a colorist. One color by itself isn't that interesting — it's the second color and a third color, and a dialogue starts and pretty soon you're swept up in it. You really don't know what's going to happen next." ³ One of the contemporary, living artists represented in the exhibition proves that the Modernists' ways of approaching color still resonates with Southwest artists today. Eddie Dominguez noted his "early influences in painting … [were] the Fauve painters, I love that in [Henri] Matisse, and how they were always using flat, bold color and sort of decorative motifs was interesting to me."4
It was at the historical moment of the development of American Modernism that artists from outside the region begin to visit and relocate to the Southwest and discover that it is a perfect locale for artists looking to explore color. The New Mexico Museum of Art's collection reflects this discovery. The exhibition could easily have comprised 400 stellar works from our vaults, so common is this tendency for our region to attract and create colorists.
Many of the first Anglo-American artists in Santa Fe came because they or a family member suffered from a respiratory illness such as tuberculosis and were seeking a healthier climate. Once here, they became enamored of the landscape and stayed to paint. So it was that Sheldon Parsons arrived in 1913. Parsons trained at the National Academy of Design and had been a successful portrait painter in New York. In New Mexico, he turned almost exclusively to painting landscapes and adobe structures. In Santa Fe Mountains in October, the title-wall artwork that initiates the viewer to Colors of the Southwest, Parsons focuses on the dramatic shadows cast over the rolling hills and the yellow aspen leaves. The spectacular fall aspens in October remain a favorite subject for artists and allow for a dramatic palette of complementary yellows juxtaposed with violet late-day shadows.
Another example of fall aspens from the exhibition also tells a story of an artist changed by the experience of New Mexico light and color. E. Martin Hennings studied at the School of the Art Institute of Chicago and the Academy of Fine Arts, Munich, Germany. In Munich, under the guidance of the Symbolist painter Franz von Stuck, Hennings developed a heavy, dark style of painting. In 1917 Hennings's Chicago patrons sent the artist to visit Taos. In response to his experience of the light and color of northern New Mexico, he abandoned heavy, dark color. He used brighter colors and painted in thin layers allowing for a more luminous quality. The Rendezvous depicts a meeting among the aspen trees in their full, fall-yellow coloring.
Colors of the Southwest tells the story of artists mediating the technical aspects of approaching color with their appreciation of our Southwest locales. As the exhibition amply demonstrates, color is fundamental to the art of this region and is one of the most enjoyable and characteristic qualities of Southwest art.
Carmen Vendelin is curator of art at the New Mexico Museum of Art. Her area of focus is art before World War II.
Notes 1 Ann McGarrell, The Roswell Artist-in-Residence Program: An Anecdotal History (Albuquerque: University of New Mexico Press, 2007), 70. 2 Dorothy Harmsen, American Western Art (Denver: Harmsen Publishing, 1978), 96. 3 Fritz Scholder: An American Portrait, PBS documentary, 1982. 4 Oral history interview with Eddie Dominguez, July 27–28, 2006, Archives of American Art, Smithsonian Institution.