To Feel Less Alone: Gay Block, A Portrait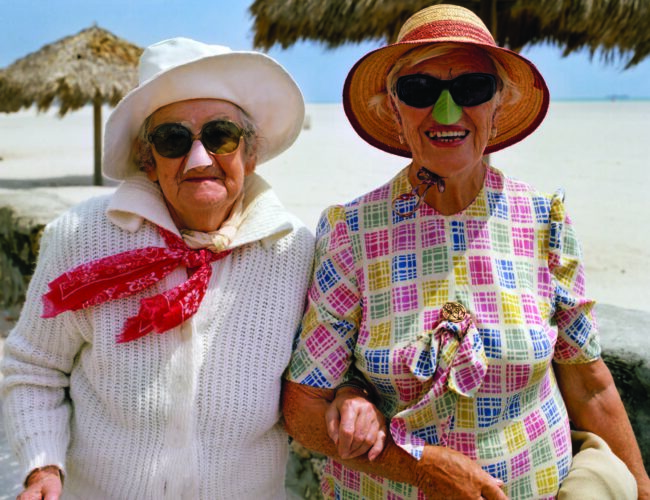 BY KATHERINE WARE
Is a portrait a picture of the person in front of the camera or the person behind the camera? Talking about the many portraits made of her by the photographer Alfred Stieglitz, Georgia O'Keeffe said, "He was always photographing himself."
As part of its Focus on Photography series, the New Mexico Museum of Art presents a survey of portraits by longtime Santa Fe resident Gay Block, showcasing work from across her career in which she uses the camera as a research tool for learning about being human. Block is internationally recognized for her photography, which fearlessly explores personal identity issues, including gender, class, religion, familial relationships, and sexual orientation. More than forty of her works from 1975 to 2012 are exhibited in To Feel Less Alone: Gay Block, A Portrait, which runs through July 26, 2015.
"Portraiture for me has always been so personal," Block said. "I never felt that I was out to advance the medium. It wasn't about photography for me; it has always been about the people." Inspired by a 1972 exhibition of photographs by Diane Arbus, she began studying photography with Geoff Winningham and others at Rice University in the early 1970s. Her first major project was black-and-white portraits of the affluent Jewish families who attended her temple in Houston. The resulting pictures reflect Block's deep curiosity about the people and families around her and how they inform her own identity.
"I wanted to photograph people to find out who they were and in some way through them figure out who I wanted to be," Block said. "In many ways I was less than formed myself, and I just had to know." The project eventually included portraits, extensive audiotaped interviews, and a film — a multimedia approach that the artist has continued throughout her many series. The exhibition concentrates on the artist's work in still photography from that early series in Houston through her recent color portraits. Included are photographs from her well-known series Camp Girls; Miami, South Beach; Rescuers; and Bertha Alyce: Mother exPosed, as well as other bodies of work and several new images being exhibited for the first time.
Many of the works in the exhibition reflect Block's interest in joining together more than one image of the same person, beginning with a 1985 commission from the H-E-B supermarket in Texas. Invited to make portraits of the company's employees at stores across the state, the artist decided to photograph them at work as well as at home. Two examples from the resulting series, Portrait Pairs: Work and Leisure, are on view in the exhibition and remind us that the people we encounter in our everyday lives are more complex than they appear at first glance. Alongside them is another double portrait, this one from Block's series Clothed and Unclothed, which also explores the personas we adopt in society as well as how our bodies can define us. "Portraiture, for me, is about a desire to see the uniqueness of each of us celebrated. Every time I look at somebody, and especially in the context of photographing, I think, 'God, this person is so great to look at. I just want to look at them forever.'"
Also included in the show are several examples from Block's series Camp Girls, an extended project from her early career. In 1981 Block photographed girls attending Camp Pinecliffe in Maine, where she had spent summers as a child and her daughter was attending. Interested in exploring issues of privilege, religion, and adolescence, Block made black-and-white portraits of the individual girls as well as of their interactions as a group. Reflecting on these vibrant young ladies years later, the artist decided to seek them out and photograph them again, to find out what became of their energy and potential. Aided by her daughter and the social media site Facebook, the artist located some of the women and photographed them in color twenty-five years later. Several examples of these double-portraits are part of the exhibition, and the artist is now considering updating the project again with a third round of portraits of the same subjects.
In Block's acclaimed series Rescuers: Portraits of Moral Courage in the Holocaust, she and the writer Malka Drucker interviewed more than one hundred Christians who risked their lives to rescue Jews in Europe during World War II. Three years and four continents later, they created a collective portrait of these rescuers in pictures and interviews. In their portraits, these elderly people appear to be unexceptional folks with common health problems, hobbies, and vices. Block decided to photograph her subjects in color and in unassuming poses. "I wanted the photographs to be contemporary, to bring viewers into the present, so that they could relate to the rescuers as people living today whose acts of goodness and courage are timeless," the artist wrote in the 1992 book Rescuers.
By showing ordinary people who took extraordinary measures for their fellow human beings, Block requires each of us to ask ourselves if we, too, can draw upon our reservoirs of strength and courage in facing the challenges of today. "I think people are like pianos," said Semmy Riekerk, a rescuer from the Netherlands. "We have our high notes and our low notes. I'm just lucky that during the war I was able to play my high notes."
Katherine Ware is curator of photography at the New Mexico Museum of Art, where she organized its Focus on Photography series, twelve exhibitions devoted to showcasing this fascinating and varied medium from its earliest practices to its most contemporary forms.