Governor's Awards for Excellence in the Arts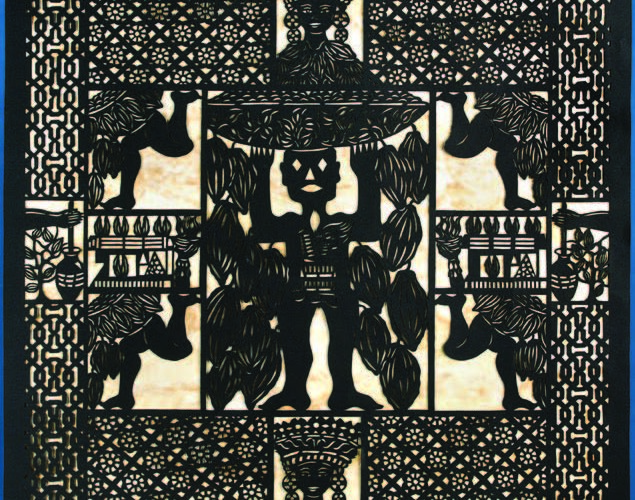 BY MARY ANN HATCHITT
Eric Renner and Nancy Spencer are among the artists and major supporters of the arts who are recognized this year with the Governor's Award for Excellence in the Arts.
Renner and Spencer have devoted some three decades to the art form of pinhole photography. They established Pinhole Resource, Inc., in 1984 to provide resources, advice, and information for photographers around the world, and founded the Pinhole Journal. They have also authored many books that are used as resource texts by artists and students worldwide. "Nancy and Eric's devotion to pinhole art, their dedication to providing various rich resources to others interested in the topic, and their efforts to educate the public about the art form have helped to raise awareness of pinhole photography in New Mexico while enriching artists, students, and their New Mexico community for decades," said nominator Faye McCalmont, the long-time executive director of Mimbres Region Arts Council in Silver City, which received a Governor's Arts Award in 2013.
In 2012 Renner and Spencer donated their collection of more than 6,000 pinhole photographs, cameras, and books to the Palace of the Governors Photo Archives at the New Mexico History Museum, enabling the museum to establish the Pinhole Resource Collection and become the world's premier source for pinhole photographic research. Photographers from around the world continue to donate works to the collection. In April 2014, the museum opened Poetics of Light: Pinhole Photography, which runs through January 10, 2016. "The New Mexico History Museum's presentation of Poetics of Light, based on the Pinhole Resource Collection, is an in-depth, eye-opening survey of contemporary pinhole photography, the largest exhibition of its kind ever assembled," said curator of photography Daniel Kosharek. The Museum of New Mexico Press published the accompanying book, Poetics of Light: Pinhole Photography: Selections from the Pinhole Resource Collection, by Renner and Spencer, which won the 2014 Mountain-Plains Museum Association award for book design.
Mary Anne Redding, former curator at the Photo Archives, and former chair of the Photography Department at the Santa Fe University of Art and Design, said: "If any two individuals with a long history of influence on the photographic arts in New Mexico deserve the Governor's Award for Excellence in the Arts, it is Eric Renner and Nancy Spencer—for their vision, their passion, and their commitment to education in the arts."
The Museum of International Folk Art holds many works by award winner Catalina Delgado-Trunk of Albuquerque. Delgado-Trunk has pushed the boundaries of traditional papel picado (cut paper) to a high art form. Much of her work is composed of complex panels that narrate Nahua mythology and explore contemporary themes. The roots of Mexican paper cutting reach back into pre-Hispanic times, when obsidian knives were used to cut figures out of bark paper. In its modern form, tissue paper is used to form flags, typically displayed on a string, for decorating Day of the Dead altars. Delgado-Trunk is credited with transforming the art into larger works with more intricate designs and broad subject matter, with each piece telling a complete story. "As an immigrant living between two worlds, my language of art serves me well to bring down walls of misunderstanding as well as to build bridges of communication and comprehension between cultures," Delgado-Trunk said. "It is a metaphor for life because it is both fleeting and traditional."
Born in Mexico City in 1945, Delgado-Trunk grew up in the Coyoacán district. Diego Rivera and Frida Kahlo were neighbors and family friends. In 2000 Delgado-Trunk and her family relocated to New Mexico, where she has worked closely with the National Hispanic Cultural Center and the Museum of International Folk Art, giving workshops and talks. She has worked with the Teachers of English as a Second Language Association, using Day of the Dead as a teaching tool. She collaborated with the Museum of International Folk Art's Gallery of Conscience, Youth Media Project, and ¡Youthworks! on a project in which Santa Fe–area youth created audio pieces on themes of immigration and belonging. Delgado-Trunk has been the subject of a ¡COLORES! TV show on New Mexico PBS. Her art has been featured at the Smithsonian's National Museum of the American Indian and at the Museum of Contemporary Art in Kanazawa, Japan. She was one of the artists selected in 2014 to represent New Mexico at the Crystal Bridges Museum's State of the Art: Discovering American Art Now.
Other 2015 award recipients are painter Vincent N. Figliola of Las Cruces; Cochiti potter Virgil Ortiz; Chimayo weaver Irvin Trujillo; actor, singer, and patron of the arts Edgar Foster Daniels of Santa Fe; and Dr. William Clark, former director of bands and head of the music department at New Mexico State University. Clark founded the Mesilla Valley Concert Band in 1986 and has served as conductor and music director for the past thirty years, and is a freelance tuba player.
This year marks the forty-second annual celebration of the Governor's Arts Awards, established in 1974 to celebrate the extensive role that artists and their work have in New Mexico. A diverse list of painters, weavers, sculptors, dancers, musicians, storytellers, poets, actors, playwrights, and potters have been honored with the award. Governor Susana Martinez said, "Artists are a cornerstone of New Mexico's economy. That's why each year we honor those who exemplify the diverse and vibrant talent in our state, and the dedicated supporters of the arts, who continue to make this a thriving industry. Art is deeply woven into the very fabric of New Mexico."
The 2015 Governor's Arts Awards ceremonies will be held on Friday evening, September 18, from 5:15 to 7:00 p.m. at St. Francis Auditorium, New Mexico Museum of Art, in Santa Fe. The ceremony is preceded by an afternoon reception and exhibition opening, 3:30–4:30 p.m., in the Governor's Gallery at the State Capitol. Both the awards ceremony and gallery reception are free and open to the public.
Nominations for the awards are invited each year from arts groups and interested New Mexicans. All nominations are reviewed by a committee of the New Mexico Arts Commission, which sends its recommendations to the full commission and the governor. This year's Governor's Arts Awards Selection Committee was chaired by New Mexico Arts commissioner Glenn Cutter of Las Cruces and included Arts Commission chair Sherry Davis of Santa Fe; Arts Commissioners Charmay Allred of Santa Fe, JoAnn Balzer of Santa Fe, and John Rohovec of Silver City; and Chuck Zimmer, New Mexico Arts deputy director and manager of the Art in Public Places program. New Mexico Arts executive director Loie Fecteau served on the committee in a nonvoting capacity. New Mexico Arts is a division of the New Mexico Department of Cultural Affairs and partners with the New Mexico Museum of Art in presenting the annual Governor's Arts Awards events.
Mary Ann Hatchitt is the public information officer for the New Mexico Department of Cultural Affairs.