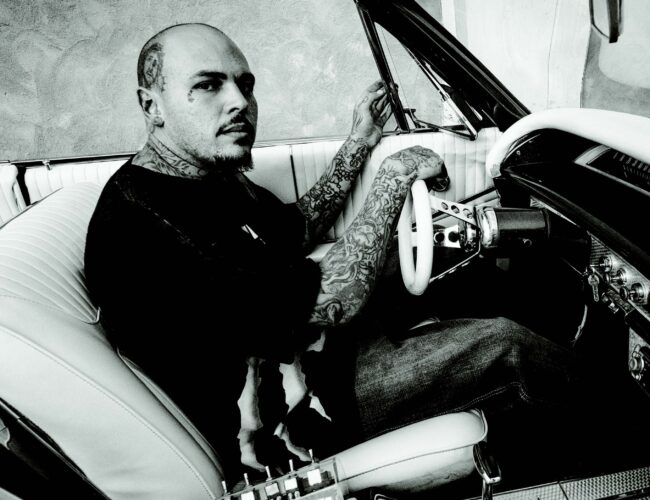 A LOW, SLOW JOURNEY FROM PACHUCO TO PRICELESS
BY DON J. USNER
It all began for Johnny Martinez when he went with his family to work in the fields of Southern California in the late 1950s.
"When we were kids we were barely making it," he told me, sitting on the porch of his comfortable home in Chimayo. "So, my mom used to take us to California to pick strawberries so we could earn money to buy our school clothes. We were nine kids. Elementary school up to about high school, every day, Sunday, Saturday—all summer long until the season was over, we picked strawberries."
Johnny paused and patted the head of his giant Rottweiler, Dozer, then continued. "We were at Santa Ana, and right there was a booming town of lowriders. And we used to see them there and say, 'Wow, look at those cars!' "So when we came home, my mom told me, 'You can get a car if you want it, but you have to work for it. I'm not giving you nothing.' And so I did—I started working. As a matter of fact, I quit school in the eleventh grade just to buy a car. I paid $100 for it. It was a '63 Chevy Impala." Vince Trujillo, who keeps his classic lowriders just a couple of miles from Johnny's place in Chimayo, didn't need to travel to California to see the cars that captivated his imagination and inspired him to create his own. Instead, the cars came to him.
"It was my cousin, Eppie Martinez," Trujillo recalled as he stood in his driveway beside his 1950 Chevy pickup. "He came back from California, driving a '56 Chevy. That was the first lowrider here in Chimayo. It was lowered. It was a beautiful car. That was about 1960."
Many other New Mexico lowriders (the term applies to the cars as well as their owners) tell a similar tale of a California connection for their inspiration. These curiously altered cars, and ideas about building them, traveled on Route 66 between California and New Mexico in an interstate exchange that began in earnest after World War II. Countless New Mexicans made the journey to seek employment in booming postwar automotive, aircraft, and other industries in Los Angeles. They settled in East LA, where they joined Mexican American laborers from border towns like El Paso, Texas, also known as Chuco Town.
It may well have been these El Paso immigrants who invented the lowrider and brought the lowrider ethos to LA.
In this narrative, the lowrider was part and parcel of the "pachuco" lifestyle that emerged in the barrios of El Paso and Juárez in the 1930s. The urban pachucos were best known for their zoot-suit "drapes": baggy pants that narrowed at the ankles, loose jackets, long pocket chains, and fedoras. They carried themselves with a kind of Mexican streetwise panache, spoke a peculiar dialect of Mexican Spanish—caló— and created the lowrider car.
Some dispute this history, downplaying the Chuco Town connection or placing the cars' origin right here in northern New Mexico. Perhaps Española lowrider Fred Rael had it right when he said, "Nobody's really sure how lowriding really started or who really started it, because you've got to figure, a lot of the people in Los Angeles weren't from Los Angeles. Half of my family was out there already. So there were people from New Mexico out there, and people were going back and forth— to El Paso, or San Antonio, too. And they'd see something in one place or the other and say, 'Hey, I want to try that,' and it kind of evolved from there."
Wherever lowriding started, in the beginning lowrider aficionados simply loaded the trunks of their cars with sandbags so that the vehicles dropped low to the road, or they used torches to heat up the springs and then pushed down on the cars to lower them. This was called tumbándolo, or "dropping it," and a lowered car was tumbado, "dropped."
Like the pachuco style, lowering a car to an impractical height and "cruising" it through the streets at outrageously slow speeds represented a kind of social rebellion. The lowriders were the James Deans of Hispano culture, a reaction to the estrangement that Mexican Americans felt acutely in the 1930s and again after the war. Perhaps this is why when I was growing up in Chimayo, the moniker "pachuco" was often paired with "lowrider" to describe the kind of people our parents wanted us to stay away from. Their fear was that the lowriders would lead us astray, into a life of delinquency.
Nonetheless, the lowrider ethos struck a chord and took hold among many young New Mexicans. The cars found their place alongside hot rods, street rods and "oldies," sports cars, classics, and dragsters. All of these represented manifestations of the American love affair with automobiles, and all were— and remain—well represented in New Mexico. But northern New Mexicans developed a particular affinity for the lowrider. In contrast to the hot rodders, who beefed up cars—mostly Fords—with large engines and jacked them up for better traction, working-class Mexican Americans and northern New Mexico Hispanos chose to build lowered cars—mostly Chevrolets—and drive them very slowly. As Fred Rael put it, "The lowriders never wanted to go fast; they just wanted to look good when they got there."
The main defining feature of early lowriders was the position of the vehicle—as low to the ground as possible. Little else was required. By the 1960s, when the term "lowrider" was coined, LA lowriders had learned to make their cars' height adjustable by installing hydraulic lifts to the suspension. In Southern California, this was a response to perceived harassment by law enforcement authorities, who had since the early days regarded lowriders as troublesome gangsters and in 1959 outlawed cars whose frame or body was lower than the wheel rims. But in northern New Mexico, the hydraulics may have been adopted, not so much to avoid the authorities, but to increase the cars' clearance when navigating dirt roads.
By the 1970s, the cholo emerged as a kind of analog of the pachuco, complete with undertones of nonconformity and an emphatic style statement. Cholos wore loose-fitting khaki pants (always pressed, with a crease), military belts, loose, sleeveless T-shirts (also ironed), button-up flannel shirts fastened only at the top, folded bandannas over shaved heads, and wino shoes (cheap canvas sneakers)—and if they could afford them, they drove lowriders.
"Every year we would drive to California," Eppie Martinez recalled. "And we'd always stay out at my grandma's. My grandma lived in San Fernando Valley, and we'd get together with our cousins that lived there—bad vatos! I mean these guys were crazy. They were Chicano cholos. They had their little hats, and their nice ironed khakis — like wow! Like flawless! And you know seeing that I was like, ¡Órale! They were like just totally different, but still part of our culture."
By the 1970s, lowriders, some in cholo style, cruised regularly on weekends all over New Mexico, but especially in and around Española. "The scene, the lowrider scene in the seventies in Española was just intense," Fred Rael remembered. "I mean it was every Sunday at the car wash, you'd just see everybody out there shining the chrome. We'd be out there on our bikes, thirteen or fourteen years old, watching everybody wash their cars. So as soon as I started driving, first thing I did was to put some 5.20s [small, narrow tires] on my car, and I went out there and hung out with the lowriders. And it was like some kind of magic just to be a part of it, you know."
New Mexicans outside car-culture circles began to notice these low-slung cars, although often with overt skepticism—and more than a little irritation at the low-speed cavalcades choking up traffic. The association of lowriders with gang culture also plagued the lowrider community of New Mexico—a reputation that was not without a basis in fact. Cholos had their dark side, and lowriders did at times join or form gangs that fought for turf, particularly in large urban areas. Yet, there was always a core of devoted craftsmen who persisted in advocating for a clean image for lowrider car culture.
A big boost for lowriders' image came in 1980, when the New Mexico Museum of Fine Arts, New Mexico's premier public art venue, sponsored an exhibit of photographs of lowriders by Meridel Rubenstein. Presented in conjunction with a car show on the Santa Fe Plaza, the presentation effectively gave lowriders the imprimatur of the Santa Fe art establishment. At the time, Rubenstein opined, "Lowriders are an art form, and their makers are artists of the highest order."
This kind of talk was a long way from the scornful comments I had grown up hearing about pachucos and cholos and their cars. Almost overnight, New Mexican lowriders assumed some legitimacy as a contemporary folk art form. Suddenly they were bestowed with cachet, their bad-boy image much diminished. Inspired by the public approval, lowriders doubled down on their efforts to create one-of-a-kind creations of high artistic merit. They roared into the nineties on this wave of recognition, with lowrider car clubs proliferating around the state. Española Valley was touted as having the most lowriders per capita of any American town or city, and in 1993 an MTV news broadcast declared outright that Española was the "Lowrider Capital of the World." Lowriding became mainstream and multiethnic as it spread across the country and even overseas.
The Museum of New Mexico Press's classic book Low 'n Slow, with richly saturated color photographs by renowned photographer Jack Parsons, eloquent text by Carmella Padilla, and poems by Estevan Arellano, came out in 1999, further celebrating lowriders as a unique feature of New Mexican Hispanic culture. By then the hydraulic systems had become stronger and more outrageous than ever, and hopping contests were the rage. Paint and exterior finish were an important aspect of the lowrider look, with flashy exteriors, extensive pinstriping, and metal-flake paint, as well as murals, inspired in New Mexico by the outstanding works of Chimayo's Randy Martínez and Arturo "LowLow" Medina. At the same time, Rob Vanderslice was revolutionizing abstract painting on lowriders, developing an instantly recognizable style of multilayered ribbons in hypnotic tangles.
Since those heady days in the nineties, when lowriders made their way to national prominence, much has changed. There have been more advances in technology, design, and adornment, with finish paint and chrome extending into trunks, around engines, and even to the belly of the car. But technological and cosmetic advances aside, almost everyone agrees that since then the number of lowriders cruising northern New Mexico has dropped. "All of us lowriders, we've just gotten older," lamented Fred Rael. "Back in the day, we could just work on our cars and cruise all we wanted. We didn't have much responsibility. Now, we've got jobs, our kids are in school…we just can't hang out like we used to."
The decline in street cruising is also a consequence of increased traffic and congestion and prohibitions on lowriding on some streets. Some cars have become so valuable that their owners don't want to risk taking them out on the road. Many lowriders have turned to organized car shows, instead of the streets, to show off their vehicles. Big shows like the Lowrider Supershow, in Albuquerque, draw some of the most extravagantly detailed cars out of hiding, and local shows remain popular in northern New Mexico. These small venues bring together lowriders from Chimayo, Alcalde, El Rito, Rio Chiquito, Taos, Española, and many other places to exchange stories, look at each other's latest experiments, and, most of all, to share in the camaraderie of the local lowrider community.
"We hang out together and we have a blast," said Mike Montoya. "That's what makes people tight, hanging out together—not on Facebook or calling each other, but actually hanging out."
"Old school" lowriders worry about the decline of lowriders on the roads, and they find themselves faced with a dilemma as they see changes in the community and look to the future. They want to both preserve the traditions of lowriding and also keep young people interested in joining their ranks. Most remain optimistic.
"It's never going to die," Johnny Martínez declared, nodding toward his son, Johnny Jr., three-wheeling with his Monte Carlo in the driveway. And Mike Roybal, from Las Vegas, New Mexico, seemed to agree: "It's not a phase to me. It's forever, you know."
"Maybe amongst some young people lowriding might be fading," says Johnny's son, also named Johnny, kneeling beside his perfectly restored '58 Impala, lowered almost flat to the ground. "But there's still quite a few that are real true to it, people who grew up lowriding, like me with my dad. I'm expecting a son pretty soon, and he'll be raised up around it and hopefully he continues it on."
Forever is a long time, but fifty years after Johnny Martinez gazed longingly at a lowrider gliding by in California, New Mexicans are still building lowriders. It's a preoccupation that keeps many individuals, and whole families, engaged in making these elegant, mechanical marvels. Lowriders remain very much a part of the northern New Mexico cultural landscape, where they still cruise — very slowly, very much in style—and much less burdened with negative stereotypes of the past.
Don J. Usner was born in 1957 in Embudo, New Mexico. He has written and provided photos for several books, including Sabino's Map: Life in Chimayó's Old Plaza, Benigna's Chimayó: Cuentos from the Old Plaza, Valles Caldera: A Vision for New Mexico's National Preserve, and Chasing Dichos through Chimayó.