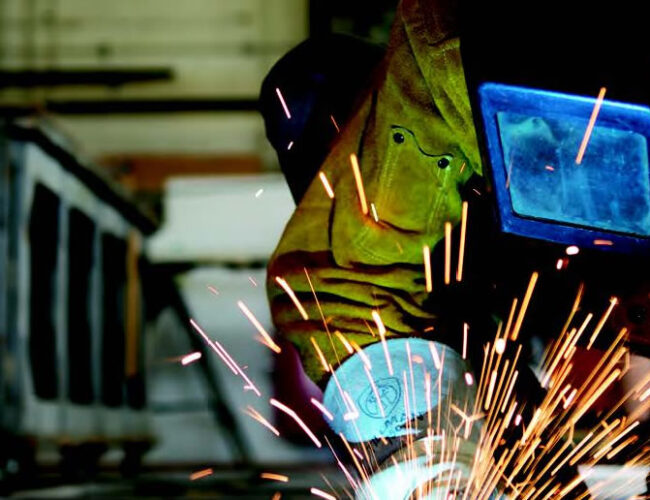 BY MEREDITH DAVIDSON AND ANDREW J. WULF
Cutting-edge, technology-driven operas may not seem like an immediate fit with the New Mexico History Museum, but if the goal is to explore emerging technology through the lens of history, this partnership is the solution.
This summer, the Santa Fe Opera hosts the world premiere of composer Mason Bates' (R)evolution of Steve Jobs, an opera about the late Apple co-founder and visionary. This is the first of two operas related to technology, with the second (the name is under wraps for now) scheduled for the 2018 season. As an extension of the theme, the Santa Fe Opera's education department will produce a symposium dedicated to the role of technology in the Southwest, with the help of an advisory team of scholars and professionals from the Santa Fe Institute, the Los Alamos Historical Society, and the New Mexico History Museum. The symposium (July 21–22) will feature presentations by the Santa Fe Opera's creative team and well-known technology-related scholars. In addition, there will be a musical performance previewing the opera's music and stars at the museum on Saturday, July 15.
This collaboration builds on the partnership formed in 2014, "Echoes from Cold Mountain." The world premiere of Jennifer Higdon's opera, based on Charles Frazier's 1997 novel of the same name, inspired an exhibition and programming at the New Mexico History Museum, Fading Memories: Echoes of the Civil War, focused on New Mexico's important, but often unknown, role in the American Civil War. Over ten months, the museum welcomed more than 1,500 visitors to a series of ten public programs, and tens of thousands of visitors to the exhibition.
Encouraged by the success of its collaborations with the Santa Fe Opera, and its commitment to technology as a source of inspiration, the New Mexico History Museum decided to take the idea of engagement with technology a step further than a traditional exhibition. The museum staff envisioned an educational space that would foster opportunities to explore emerging technology through the lens of history. This summer, that vision becomes a brick-and-mortar reality with the launch of the New Mexico History Museum's Makerspace and Learning Lab, which will be located front and center in the main lobby of the History Museum.
In conjunction with this and next season's technology-related operas, the museum has developed a theme of "Technology & the West." Related makerspace activities include explorations of the intersection of state and regional history with technology, performance, and music.
What is a makerspace? The maker movement began around 2009 as a fun, new-technology-based educational strategy enabled by the increasing accessibility and affordability of electronic components, computers, and open source software and hardware, as well as new tools controlled by computers. It is grounded in basic electronics, robotics, and 3D modeling and printing activities, often in combination with traditional skills like sewing and letterpress printing.
That might sound intimidating, but makerspaces are quite often simple: hands-on sites where people of all ages and abilities can experiment, create, learn, and better understand how the world works around them. Trained staff and an array of materials and technologies familiarize visitors to new technologies through their own making activities. The museum will kick off its programming by exploring circuits and electronics through historically grounded events in New Mexico. One activity includes creating fabric bookmarks using conductive thread woven into traditional Navajo blanket patterns that connect lights in the bookmarks. The museum will also guide visitors through the history of cased photographic images in our collection and, with the help of a 3D printer, staff will teach participants how to create a case from 3D filament to hold a self-portrait of their own.
Makerspaces have sprung up as places where people come together to make prototypes out of ideas, share tools and skills, and learn by working together on projects. Libraries and museums have become popular as environments for maker programs, because they are already places where people come for access to information and opportunities for lifelong learning.
New Mexico has a long and important history of "making" in the traditional sense of handwork skills and self-reliance. The state's history has also seen the rise of certain technologies in tech industries and national security.
Not surprisingly, New Mexico has led the charge in library makerspace innovation. In 2012, the New Mexico Makerstate Initiative was established as a partnership between New Mexico State Libraries (NMSL) and Highland University's Center for Cultural Technology (CCT) to promote digital literacy and STEAM (Science, Technology, Engineering, Arts, and Math) learning. It is one of the only statewide maker programs, and it's nationally recognized for its leadership in offering pop-up maker programs in rural public and tribal libraries, serving over 3,000 community members at events in Carlsbad, Farmington, and beyond.
What inspires the New Mexico History Museum's makerspace, and how will ours be different than others? One guiding principle is to expose visitors to more hands-on history experiences related to the museum's mission: to interpret the history of the Southwest. This new space within the soon-to-be fully redesigned museum lobby—complete with related family activity centers, comfort zones, and maker-inspired exhibits—will also serve as a center for the exchange of ideas, shared histories, and the location in the state where New Mexicans find their place.
The New Mexico History Museum's Makerspace and Learning Lab is dedicated to giving visitors opportunities to increase digital literacy and develop comfort with emerging technologies. It's also a place where children and families can practice collaborating and networking with others. It will build upon an ongoing partnership with the Santa Fe Opera and join forces with the NMSL Makerstate program. This partnership will also serve as a think tank and incubator for potential programming that could be widely used across the state.
In addition, in 2017 and 2018, the Girl Scouts of New Mexico Trails will host their annual Innovate and Create summer camp in the new makerspace. Young women in sixth through tenth grades will participate in guided STEAM experiences. Each module bridges art and technology. The 2017 and 2018 Innovate and Create camps will capitalize on the museum's collections as sources for materials and inquiry. Over two weeks, the girls will learn about a woman in history, by doing research and studying collections items related to her. With that information, camp participants will create a checkerboard game with 3D printed pieces based on collections items. Each game piece, outfitted with an RFID (Radio-Frequency Identification) tag, will be able share information about the woman related to the object as the piece is removed from the game board. During the second week, which focuses on music and performances, students will go to the Santa Fe Opera for a behind-the-scenes tour. Using the museum textile collections as inspiration, the participants will create light-up headbands and accessories and develop their own electronic music. These works will come together in the form of a short performance piece by each girl.
By highlighting the connections between artistic methods, science, technology and our region's history, we hope to inspire new creators and build a statewide community of makers. Human beings can make deeper and better changes when they work together, and the New Mexico History Museum's Makerspace and Learning Lab gives them a destination for that purpose.
Andrew J. Wulf serves as executive director of the New Mexico History Museum and the Palace of Governors in Santa Fe, New Mexico. His recent book, U.S. International Exhibitions During the Cold War: Winning Hearts and Minds through Cultural Diplomacy (Rowman & Littlefield), was released in April 2015.
Meredith Davidson, curator of 19th- and 20th-century Southwest collections, joined the New Mexico History Museum in 2013. Her focus on oral history and storytelling includes recent work to record the living memories of New Mexico counter-culturalists, veterans, ranchers, and Northern New Mexico's lowriders.