Picturing the Future
Quilts of Southwest China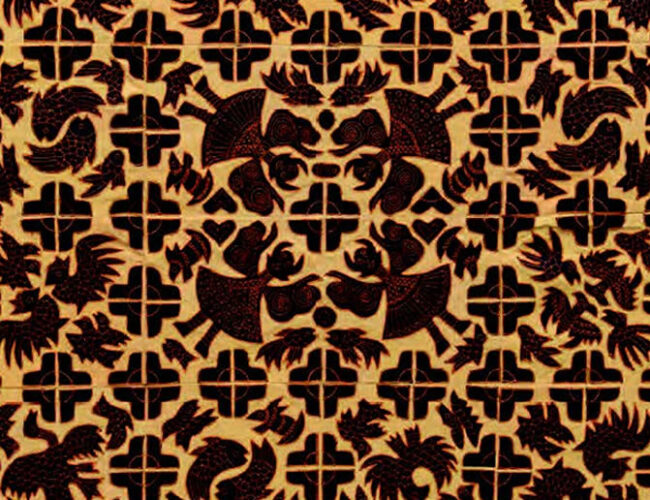 BY CARRIE HERTZ
CULTIVATING, WEAVING, and dyeing cotton were regular parts of Mo Aiqun's childhood. Born in 1958 in the Zhuang village of Sanbao (Tian'e County, Guangxi), she began learning to sew and embroider when she was thirteen. Like many young women in her community, she arrived at her new husband's home with quilts she made for her dowry.
It takes Mo Aiqun more than a year to create a quilt. Decorative bedcovers from southwest China are remarkable demonstrations of skill and creative vision, not only as part of women's dowries. They may also decorate wedding beds, welcome the birth of a child, or serve as precious family heirlooms and gifts.
Mo Aiqun has witnessed the decline in local quilting practices firsthand. Her mother continues to process cotton and Mo Aiqun continues to make bedcovers for her three grown children, but they have little interest in continuing the tradition. Like many traditional artists, however, Mo Aiqun is broadening the reach of her work. Through her work, now preserved in museums and featured in a traveling exhibition called Quilts of Southwest China, future generations will rediscover Zhuang quilting. Sometimes a flowering of international appreciation stirs the possibility for revitalization back home.
The commonly used Mandarin word for quilt is p¯ın bù (拼布), an umbrella term covering a range of functional, artistic textiles made with traditional quilting, patchwork, and appliqué techniques. In addition to the multilayered bedcovers familiar to most Americans, quilt can also refer to items like baby carriers, diaper pads, or hats. Words capture a host of subtle meanings, often relying on cultural knowledge for comprehension. When collaborating internationally, translation is not simply substituting one word for another, but untangling a web of ideas, assumptions, and shared associations. Defining terms was one of the first challenges faced by the bi-national project team responsible for organizing Quilts of Southwest China, on view at the Museum of International Folk Art from July 9, 2017 through January 21, 2018 and accompanied by a bilingual catalog. This nationally touring exhibition features more than two dozen bedcovers, alongside other elaborately pieced, appliquéd, and embroidered clothing and household textiles. The exhibition focuses on historic examples, many made during the twentieth century, but concludes by highlighting several living artists seeking new opportunities to reinvigorate quilting traditions. Crossing geographic, linguistic, and cultural borders, Quilts of Southwest China marks the first research into an art form little known outside the ethnic minority communities that make it.
Featuring examples drawn from the collections of the partnering museums, Quilts of Southwest China centers on the creative ingenuity of quilters who draw inspiration from a rich array of culturally meaningful designs and symbols. These designs may reference myths, local legends, or folk tales to those who can read their combination of motifs. One quilt displayed in the exhibition includes a central ring of dancing girls wearing horned headdresses, an allusion to Chiyou, a legendary hero and Miao ancestor who fought in epic battles. Quilters often incorporate auspicious designs, materializing their hopes for happiness, prosperity, longevity, and good health, as well as protection from harm. A ruyi design recalls the scalloped shape of a ceremonial talisman and symbolizes granted wishes. The incorporation of a rooster may protect someone from evil spirits while he sleeps. Though the same imagery appears again and again in available examples, each artist brings her own style and craftsmanship to the interpretation of a shared vocabulary of designs. Butterflies, flowers, and birds, for example, appear in almost endless variations, sometimes idiosyncratically elaborated, and sometimes abstracted into the most basic of shapes, hidden within larger patterns.
In 2013, the American and Chinese Folklore Societies (independent scholarly organizations in each country) invited the Museum of International Folk Art to participate in a series of professional exchanges with museum colleagues in the United States and China. MOIFA was joined by two university museums in the U.S., the Mathers Museum of World Cultures at Indiana University and the Michigan State University Museum, as well as three provincial ethnographic museums in southwest China, the Yunnan Nationalities Museum, Guizhou Nationalities Museum, and Guangxi Nationalities Museum. The exchanges brought individuals face-to-face through conferences, collections visits, and field trips, eventually culminating in Quilts of Southwest China, curated by project members Dr. Marsha MacDowell (Michigan State University Museum) and Dr. Lijun Zhang (Guangxi Nationalities Museum). Throughout the multiyear project, our cross-cultural conversations focused on bridging ideas about cultural preservation, traditional arts, and change—including aspects of social, cultural, economic, environmental, and political change.
This kind of change often takes on a moral tone. Is it good? Is it bad? Does change affect everyone in the same ways? And yet change is inescapable. As cultural institutions, today's museums wrestle with the best ways to humanely negotiate change, not only by preserving tangible expressions of cultural life for future generations, but also by recognizing an entire ecosystem of knowledge, belief, expertise, and social relationships that sustains the vitality of those cultural expressions.
In southwest China, the making and use of particular textiles have served as important methods for maintaining ethnic minority identities, generation after generation. Groups are often recognized—both internally and externally— by their characteristic garments and embroidery patterns. While more than ninety percent of the Chinese population identifies as Han, the government officially recognizes fifty-five minority groups, many of which live in the southwest region. Among those groups, numerous subgroups are known by names that reference elements of dress, like the White Trouser Yao or the Small Flower Miao, whose traditional jackets are ornamented with tiny, precisely embroidered floral designs. Swift economic and social changes in this region, however, have led to an influx of inexpensive, readymade materials, coupled with a different pace of life that leaves little time for spinning, weaving, and ornate needlework.
Traditional forms of festive clothing and baby carriers remain common features of daily life in many communities, but the making of decorative bedcovers has declined, replaced with mass-produced blankets. The project team chose to focus its attention on quilts as a dazzling, yet disappearing, art form, hoping to lay the groundwork for further investigation and renewed interest.
Huang Biyu was born in 1983 near Shali (Longlin County, Guangxi). Opportunities for making a living were limited, so she left her Zhuang village to attend college and work for a tour company. Minority groups like the Zhuang have experienced a long history of discrimination, and the southwest region has seen a lag in economic development. In recent decades, however, the Chinese government has relaxed policies that stressed ethnic assimilation and introduced substantial spending on cultural tourism meant to celebrate ethnic diversity and preserve disappearing cultural arts. Like a growing number of young people who have witnessed these changes, Huang Biyu wishes to embrace a renewed sense of pride in the artistic traditions of her community. In her twenties, she returned home to mentor with knowledgeable elders, learning to weave, dye, embroider, and quilt. "I love the traditional culture of my ethnic group and my hometown," she told the Guangxi Nationalities research team. Like Mo Aiqun, she also feels responsible for the future of her community's traditions. "I am the only one [of my generation] who is still practicing [the craft]. The skills may disappear if I stop doing it."
Like their ancestors before them, Mo Aiqun and Huang Biyu create artworks that simultaneously respect the past, satisfy present ambitions, and with the use of meaningful motifs, articulate both hopes and fears for the future—a patchwork bound by their dedication to everyday artistry, one that no longer fits easily into everyday life. Today, we can see that Chinese quilts and their makers are extraordinary, worthy of broader understanding and appreciation. During a time of great change in China, many actors, from museums and government bodies, to communities and individual artists, are trying to understand the possibilities for continuing traditional arts in contemporary life. By shining a spotlight on Chinese quilts and their makers, perhaps new opportunities will be discovered.
Objects are revealing. Objects can teach. Chinese quilts, for example, embody layers of history, shared identity, and traditional knowledge, and the examples now in collections will serve as valuable sources of inspiration. But living traditions will always be located in practice, in individuals striving for something more.
Carrie Hertz is curator of textiles and dress at the Museum of International Folk Art.
Quilts of Southwest China will be on view at the Museum of International Folk Art from July 9, 2017 through January 21, 2018. The exhibition is sponsored by The Henry Luce Foundation. Additional support comes from the E. Rhodes and Leona B. Carpenter Foundation.