Remnants among the Ruins
The New Mexico History Museum and the Museum of International Folk Art Reflect on the Syrian Civil War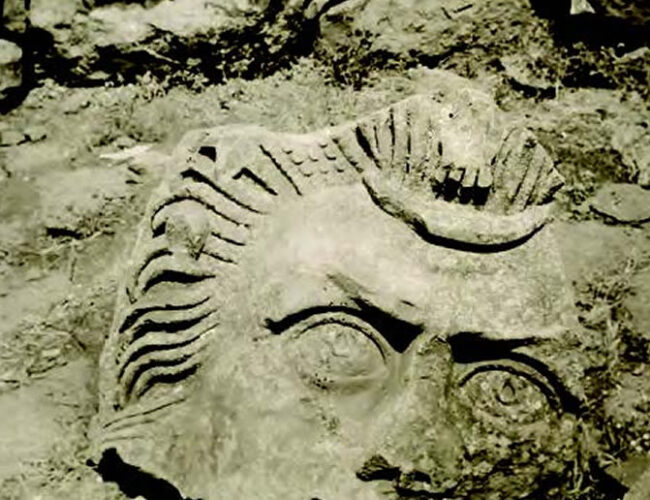 BY KHRISTAAN D. VILLELA and ANDREW J. WULF
Spring 2017 marked the sixth year of the Syrian Civil War, a conflict that has claimed hundreds of thousands of lives and created a humanitarian catastrophe, with millions internally displaced and over four million who have fled the country as refugees. The war shows no signs of abating, and all sides continue to receive aid from foreign powers. As a result of the conflict, significant aspects of Syrian culture, both ancient and contemporary, stand at the brink of destruction. All six of Syria's UNESCO World Heritage Sites have been damaged or destroyed, including structures in the cities of Aleppo, Bosra, Damascus, the Crac des Chevaliers and Qal'at Salah el-Din, in the ancient cities of northern Syria, and of course, at the ruins of Palmyra, where forces of the Islamic State of Iraq and the Levant (ISIL) systematically destroyed many buildings, including the well-preserved Temples of Baalshamin and Bel.
The New Mexico History Museum and the Museum of International Folk Art responded to the ongoing crisis by collaborating on summer 2017 exhibitions that showcase Syrian collections as well as convey a sense of shared concern, empathy, unity, and support for those suffering dislocation, trauma, and loss in this war's diaspora.
The joint exhibitions enshrine lost Syrian cultural patrimony in memory, from fast-disappearing ethnic costumes to the ruins of Palmyra, an ancient Semitic settlement inhabited by Amorites, Arabs, and Arameans. The city was a caravan stop for travelers crossing the Syrian Desert, and the Palmyrenes were key players in the Silk Road trade, linking the Mediterranean with China. Beginning in 64 BC, Palmyra was one of the richest cities as a province and later colony of the Roman Empire. The city's most memorable ruler was the queen Zenobia, who in AD 270 began to conquer neighboring territories, ostensibly acting on Rome's behalf. Her forces seized the Roman province of Arabia, and then Egypt, where she was crowned queen. After she invaded Anatolia, today in eastern Turkey, the Roman emperor Aurelian realized that Zenobia was acting in her own interests and not his. In 271, Aurelian reconquered the Palmyrene Empire, captured Zenobia, and took her back to Rome as a prisoner. After another revolt, Aurelian destroyed the city of Palmyra. History repeated itself in 2015, as another auto – cratic power destroyed Palmyra again.
The Museum of International Folk Art (MOIFA) opened an exhibition of Syrian folk art and costumes curated by Felicia Katz-Harris. Traditional Arts of Syria is located in Lloyd's Treasure Chest, an open storage concept gallery originally designed to showcase textiles from Lloyd Cotsen's Neutrogena Collection.
Students of Syrian folk art, whether historic or contemporary, are confronted with defining both Syria and the folk. The modern Syrian Arab Republic embraces a mosaic of ethnic and religious folk: Arabs, Assyrians, Bedouins, Kurds, Armenians, and Turks, who follow Islam, Christianity, Judaism, and other faiths. Historically, all of these peoples ranged across territories that are now encompassed by Syria, but also by Lebanon, Jordan, parts of Israel and Palestine, and eastern Turkey. Consequently, assembling an exhibition of Syrian folk art involves assembling objects collected in many different countries. While some of these works express specific Syrian cultural and ethnic identity, others, like objects associated with scribal arts, situate their makers in a wider context of Middle Eastern Islamic culture. But no matter who made them, the traditional arts of Syria have been devastated by the destruction of the country's social fabric over the past six years.
Since its opening in 1953, MOIFA has been collecting folk art and costumes of Syria and the surrounding region and it presented exhibitions of Israeli folk art in 1960, as well as of Bedouin Palestinian clothing in 1974 and 1977–1979, including many examples made in Syria. The current exhibition features a broad selection of Syrian folk art and costume, from a woman's jacket embellished with ornate embroidery, to a child's coat decorated with protective symbols. Examples of metalwork include bridal jewelry, pipes, pen cases, a coffee grinder, coffee pots, and food containers. Other highlights are a wooden box inlaid with the intarsia technique, wooden cookie molds, a camel whip, and a case of amulets collected and arranged by Alexander Girard. MOIFA is also trying to collect examples of contemporary Syrian glassware from a Damascus-based workshop. MOIFA's exhibition allows visitors to appreciate historical arts alongside contemporary works, even a few—especially glassware—that have been created since the start of the Syrian Civil War.
The New Mexico History Museum's companion exhibition, Syria: Cultural Patrimony Under Threat, focuses on Syrian archaeology, history, and culture. It was curated by Daniel Kosharek of the Palace of the Governors Photo Archives and Heidi McKinnon of Curators Without Borders. Historic photographs from the Palace of the Governors Photo Archives anchor the show. Highlights include selections from albums that Princeton University archaeology professor Howard Crosby Butler assembled a century ago in conjunction with three expeditions to the Middle East between 1899 and 1909. The seven Butler albums were in the collection of Museum of New Mexico founder Edgar Lee Hewett and were transferred to the Photo Archives from the Laboratory of Anthropology in 1976. Photographs of ruined Christian basilicas, forts, mosques, and the ruins of Baalbek and Palmyra are among the 642 photographs in the Butler albums. Images of ruined archaeological sites will appear with other early photos of people from the same region, as well as Santa Fe artist Tony O'Brien's contemporary photos of Syrian refugees in Jordan. The museum is collaborating with Santa Fe-based Curators Without Borders, which specializes in designing ways for museums and cultural institutions to respond to humanitarian crises. Curators Without Borders designed a learning kiosk for the show, which will present photographs, texts, and digital media relating to Syrian archaeology, culture, history, and current events. The kiosk will share the human counterpoint to the risk Syria's ancient archaeological sites—and all cultural patrimony in conflict areas—face during this period of civil strife.
The New Mexico History Museum and Museum of International Folk Art exhibitions remind our audiences of the importance of preserving cultural patrimony and the memory of those monuments and traditions that are already lost.
Khristaan D. Villela is the director of the Museum of International Folk Art. Andrew J. Wulf is the director of the New Mexico History Museum and the Palace of the Governors.