Where Worlds Collide
Folk art collector meets Modernist creator at the Museum of International Folk Art.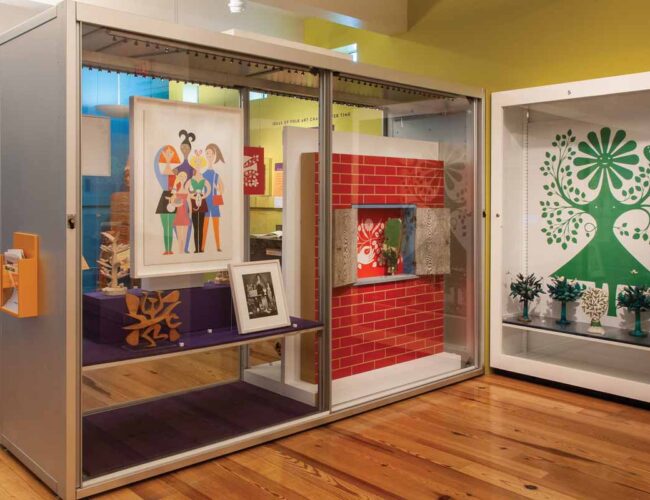 BY DAVE HERNDON

In the fifties and sixties, Alexander Girard's status as both a Modernist designer and a prolific consumer of folk art might have seemed hopelessly irreconcilable. After all, what could Mad Men-era commercial design possibly have in common with, say, clay totems or weavings produced in the Peruvian highlands, Mexican pueblos, or remote villages of India or Poland? It would have required some vigorous leaps of the imagination, a forensic eye for detail, lots of travel, and intimate knowledge of Girard's accomplishments as creator and collector to develop a unified theory for the seemingly far-flung spheres of his aesthetic vision. Nowadays, though, all it takes is a tour of a trio of exhibitions at the Museum of International Folk Art that limn Girard's creative genius for synthesis between worlds that fifty or sixty years ago had neither yet been linked by globalization nor subject to the critiques of cultural imperialism that accompanied it.
"I think he was the only mid-century designer explicitly using folk art in modern design," says MOIFA Executive Director Khristaan Villela. "He punctured the austerity of Modernism."
On the museum main floor, Alexander Girard: A Designer's Universe is a tour-de-force retrospective of the designer's fabric patterns for Herman Miller, art direction for Braniff International Airways, corporate cubicle décor, domestic interior design, furnishings for Manhattan restaurants, and myriad other projects. Produced by Germany's Vitra Design Museum from archival materials, the exhibition will remain on display through October 27.
Down the hall in the Girard Wing, a sprawling display culled from the museum's archive of over 100,000 international folk art objects donated by the designer and his wife Susan Girard, is, of course, on permanent display in the museum's Multiple Visions: A Common Bond exhibition. It's nothing less than a World's Fair of small handmade objects.
And in a subterranean gallery, a trenchant and compact show called Girard's Modern Folk points to possible, even likely, relationships between items in the two parent exhibitions. The curator, Laura Addison, "wanted to show Girard's designs next to folk art pieces that they appear to be in dialogue with," says Villela. "We leave making those connections to the viewer." What exactly to make of those connections lies in the eyes of the beholder, for Girard's work is open to interpretation.
As the objects are displayed, it requires no trained eye or imaginative leap to recognize that Girard derived inspiration from folk art motifs, patterns, palettes, and compositions. It's as plain as a black and white pair of Girard's geometric textiles, which are juxtaposed with black and white objects he collected—a couple of Diné (Navajo) weavings, a bowl from Kewa Pueblo, and a ceramic animal from Acoma Pueblo. That these artifacts are all products of Southwestern Native cultures sheds light on the Girard family's decision to live in Santa Fe from 1953 onward, as does the state's proximity to Mexico, its vital Spanish Colonial art tradition, pervasive artistic ethos, and vernacular architecture that created an environment neither urban nor suburban. "If you're a folk art maniac," says Villela, "New Mexico is the perfect place to situate yourself. It must've been a paradise for him."
Girard was mad about toys, and his original concept for the museum was to display his voluminous collection of playthings. "Toys represent a microcosm of man's world and dreams," he once wrote. "They exhibit fantasy, imagination, humor, and love." A craftsman as well as a designer, he even made toys for his children, a sampling of which are presented with figures from around the world.
"He was very interested in the concept of delight," says Villela. "That's why folk art appealed to him."
Girard's penchant for strategic appropriation is perhaps most pronounced in his adaptations of traditional Tree of Life artifacts he collected in Mexico. The Lifesaver colors and branching structure of a large candelabrum by Mexican ceramist Herón Martinez Mendoza (ca. 1960) are echoed, in flattened and simplified style, in Girard's Fruit Tree design, which was produced as vinyl wallpaper by Maharam. Another display case shows green ceramic trees from Mexico along with the famous Daisy Face, a jolly anthropomorphic feminine figure with branches for arms, leaves for digits, and a floral head. This was one of Girard's Environmental Enrichment panels from the early 1970s, which he created as uplifting décor for modular office spaces.
A utopian interpretation of Girard's process holds that he was identifying and replicating commonalities between world cultures and, in doing so, functioning as a kind of globetrotting cultural diplomat. MOIFA founder Florence Bartlett articulated this vision in a statement engraved at the museum's entrance: "The art of the craftsman is the bond between the peoples of the world."
But these days, Girard's brand of appropriation is not necessarily smiled upon so generously. For example, Girard bought dozens of those ceramic trees in Mexico, reflecting his voraciously acquisitive strategy for collecting folk art. "When you're in doubt, you buy all of them instead of one," he said in response to a query about his shopping binges. Villela notes that Girard's buying power had the ability to change the economies of villages where he shopped, but the economic disparities between the Indigenous creators and their cosmopolitan customer naturally raise thorny issues of cultural imperialism and exploitation. After all, Girard's folk-influenced designs for Herman Miller were marketed as decorations for an elite corporate clientele, not the democratic hoi polloi.
"His collections come from an era of different ideas about how we see other cultures and what to do with their objects," says Villela. "He was not interested in objects in their original context. He was more interested in how he could create themes and miniature theaters with them. We are working on ways to tell that story." He adds that the American Folklore Society has already produced papers deconstructing the Girard Wing.
If the retrospectives of Girard's œuvre represent a time capsule, as Villela suggests, it's one whose contents continue to gain currency as mid-mod style keeps earning increased international, mainstream popularity. Herman Miller, Maharam, and Vitra sell Girard products to this day, as do design stores and museum shops, and A Designer's Universe will be a centerpiece of the next Modernism Week exposition in Palm Springs.
Larry Keller, a Girard devotee who owns the Design Warehouse store near the Santa Fe Plaza, eschews both the utopian and revisionist critiques of Girard in favor of a more purely aesthetic response. "People talk about how he represented the commonality of humankind," says Keller. "I relate more to the flip side of that—how he appreciated the uniqueness of cultures and the individuality of a viewer looking at an object."
Keller sells various Girard pieces, including a brilliant metallic sun figure, Environmental Enrichment panels, and pillows, and a corner of the shop is devoted to what Keller calls a "shrine" displaying Girard toys, napkins, mugs, and posters. He says Girard didn't have popular recognition in his lifetime, and nor did he pursue it, but he is now recognized as a peer alongside Charles and Ray Eames, Marcel Breuer, Mies Van der Rohe, and Eero Saarinen in the pantheon of mid-century modern masters. Not only that, Keller says, "I put him up there with Matisse and Mondrian and Albers," referencing artists who blurred the distinctions between the decorative and the fine arts, and used "carnival colors" to provoke "ecstatic pleasure." If that sounds even remotely far-fetched, call to mind Matisse's leafy cut-outs, which would be at home at home in the Modern Folk exhibit or on a cubicle wall. "For me," says Keller, "Girard was all about joy and exuberance."
Dave Herndon is a writer and editor based in Santa Fe.