A New Mexican Love Story
Four photographers capture the pace and nuance of our lives now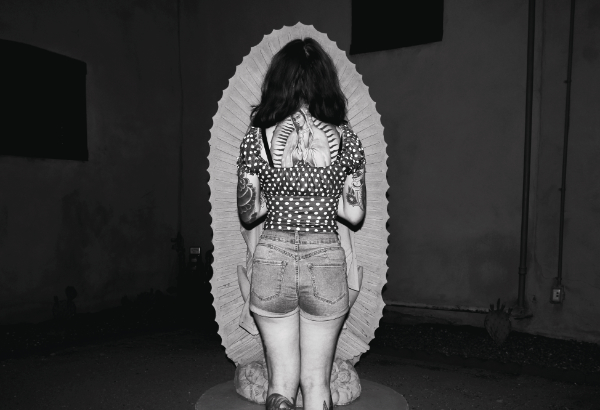 By Emily Withnall
In Frank Blazquez's photograph Sleepy and his Daughter, Sleepy flashes the prison gang sign for Los Padillas. He is shirtless and covered in tattoos, his arms wrapped around his young daughter, who sits on his lap. His hands partially obscure the girl's face and he looks directly at the viewer in a bid for acknowledgment. Los Padillas are also a family affiliation, and as Blazquez explains, many of Sleepy's tattoos also demonstrate allegiance to family, as well as place and faith.
Blazquez's photographs appear alongside the work of three other New Mexican photographers—Ximena Montez, Bobby Gutierrez, and Pico del Hierro-Villa—in Tempo y Tiempo at the National Hispanic Cultural Center, which runs until July 10. Curator Jadira Gurulé says that the show reflects New Mexico cultures and themes of identity, healing, and legacy. Each photographer's work provides a familiar reflection of the places and people that many New Mexicans can identify with, but they also reveal a window into how each artist makes sense of their lives and communities.
"Art shows can get organized around certain identities, but these stories have elements that are applicable to a wide range of people," Gurulé says. "Hispanic artwork, for example, is still relevant in the broader context of American art."
Blazquez, who is based in Albuquerque, photographs people living in the "War Zone," a notorious neighborhood along the city's Central Avenue. His portraits reveal the humanity in Latinx survivors of addiction and incarceration. He calls his photographs a "New Mexican love story." As a native Chicagoan, Blazquez considers himself an insider/outsider. Like many of the people he photographs, he is Mexican-American and he has overcome addiction. But as a geographic outsider, he says, he's able to see how deeply people here identify with place.
"Sometimes before they even say, 'I'm Latino, I'm Hispanic'—it's 'I'm New Mexican first,'" says Blazquez. "I never heard that in Chicago, someone saying, 'I'm an Illinoisan first'—that doesn't happen."
Blazquez says he learned about shutter speed, aperture, and the ways light passes through a lens in his former work as an optician, before he ever picked up a camera. He began taking portraits inspired by the Great Depression-era documentary photography he encountered at the University of New Mexico's Center for Southwest Research. He says the old photographs made him want to make a connection between people who might be the ancestors of those he photographs.
The people in most of Blazquez's portraits have many tattoos, some homemade prison tattoos and others professional. For the people he photographs, Blazquez says, the tattoos are a way to process trauma, claim geographies, or to commemorate loss.
"There's a lot of memorials," says Blazquez. "One that I saw that I didn't get permission to take a picture of, but I can speak about it, he had this graveyard on his back of all his friends that have passed away."
As a whole, the photographs featured in Tempo y Tiempo are each a kind of memorial of their own—moments in time captured to remember and honor places, people, and the versions of self revealed in each image. Gurulé says the exhibition's name came from a collaborative process, and is meant to invoke moments in time—tiempo—and the tempo of living.
Santa Fe photographer Ximena Montez's work is a part of a project entitled How to Pretend to be a Matriarch, and the series of photographs invokes a memorial for the deaths of beloved grandparents and the metaphorical death of past versions of self. The title is a reference to the sometimes unwieldy challenge of stepping into a new role.
"My grandmother pulled me aside before she passed away and said she thought that I was going to be the next matriarch of the family—and that was over 20 years ago," says Montez. "I'm only 51 years old; I'm not an old sage woman. I get my information from other mothers and family members that are in the same process. It's just a process of learning."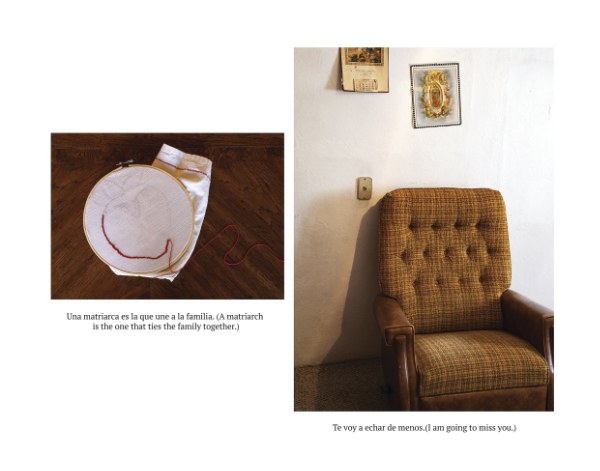 In one frame of paired photographs, Montez captures her grandmother's empty brown recliner. On the wall above the chair, a yellowed tear-away calendar and a picture of la Virgen de Guadalupe are visible. Below the photograph is a dicho (saying): "Te voy a echar de menos (I am going to miss you)." In the second photograph in the frame, Montez captures a still life of unfinished embroidery. Red stitching skims half the outline of an apple penciled onto white cloth before the stitching stops and the loose red thread extends beyond the embroidery hoop and out of frame. Its dicho reads: "Una matriarca es la que une a la familia (A matriarch is the one that ties the family together)."
"For me, and probably for any matriarch, it's trying to hold onto those things that are really important for the culture," says Montez. "What's important to me might have been different for my grandmother and my mother. It's thinking about how do I support and raise the next generation."
Montez is an educator in the Santa Fe Public Schools, and she says education and love of the land are two things she wants to pass on. In a photograph Montez describes as a portrait of her grandparents, two vehicles are parked side-by-side. An orange pickup truck faces one direction, and a yellow sedan faces the other. Behind the vehicles are bare-branched winter trees and distant blue peaks. Montez says the vehicles belonged to her grandfather and grandmother, respectively, and the land was where they lived in La Puebla. The distant peaks were a reference to her grandmother's worldliness—in the 1930s, she was recruited for a women's baseball team, later served as a nurse in World War II, and made sure she was educated before she married. The dicho beneath the photograph reads: "A camino largo, paso corto. (Long way, short stop)."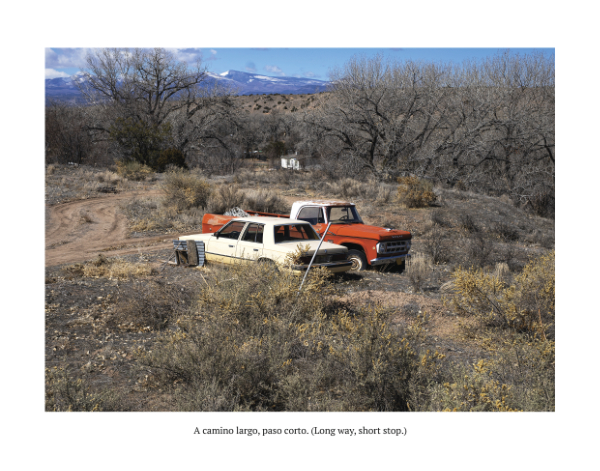 No living humans appear in Montez's work; instead she captures objects and the places in Santa Fe and La Puebla to carry the emotion of grief, inheritance, and faith. Although Montez does not adhere to the Catholicism she was raised with, the cultural elements and beliefs come through in her work. She says the red thread is the heart, and she uses blue in all of her images because of the Catholic belief that it will ward off bad spirits.
Faith, spirituality, and Catholicism—particularly in the form of la Virgen de Guadalupe—are recurring themes throughout the exhibition. La Virgen, recognized by the Catholic Church as a manifestation of the Virgin Mary, invokes a sense of community and belonging in New Mexico that can be felt in the photographers' work. In Bobby Gutierrez's photograph Veneration, a plaster Virgen graces a nicho on the exterior wall of an adobe home. She can be seen through white metal fence posts and she wears a cloth mask across her face. Rosary beads are draped around her wrists as she holds her hands in prayer. Chile lights are arranged around her.
Gutierrez says la Virgen de Guadalupe has been a common thread in the ten years he's been taking photographs. His work in Tempo y Tiempo captures pandemic life in New Mexico, and most of his photographs are paired with in-depth personal reflections on what it means to be human in the midst of so much turmoil and tragedy.
"During the height of the pandemic, I think people were trying to convince people that how we need to help each other is by protecting each other—like, this is how we're going to get through this," says Gutierrez. "Unfortunately, as you know, it's not working out that great."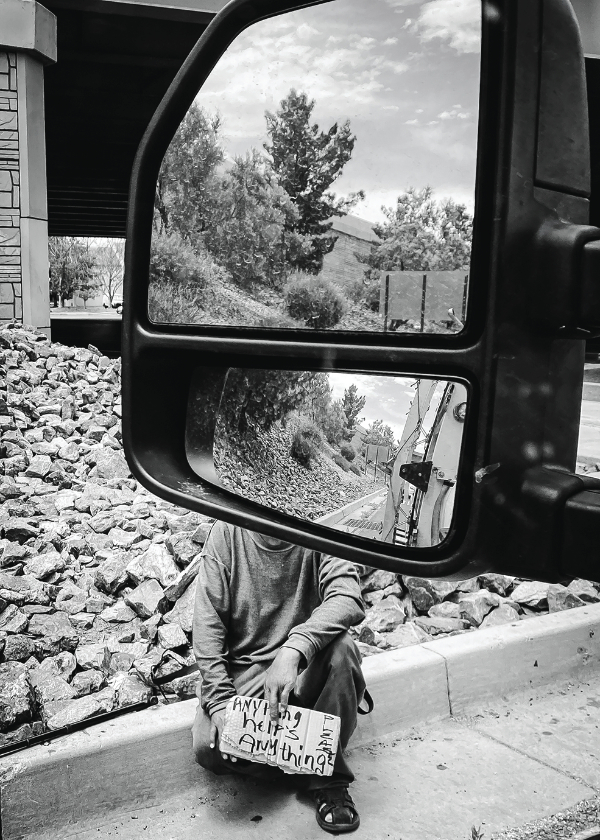 Gutierrez captures this despair in his black-and-white photograph lack of (empathy). In it, a truck's side mirror obscures the face of a man seated on the curb, holding a sign that reads "Anything helps. Anything." In his caption, Gutierrez writes, "As the world slowly begins to return to 'normal' I find myself wondering if we have learned nothing of the last 18 months. How to be empathetic to others' lives and situations or is it back to our selfish ways? I don't have a lot of hope to be honest…"
Gutierrez is self-taught, and says he's been taking photographs for ten years. Although he has worked professionally (taking photos for the Santa Fe Opera, for example), he prefers the creativity that comes from spontaneous shots. The personal captions he includes with most of his photographs are his way of contextualizing the moments in time he captures.
"People say if you take great images, you don't need words, but for people like me who may not have an art education, I'm just putting my image in context," says Gutierrez. "We're in such a quick-consume world, everything is single-serve. We don't really take time to connect, but if I can catch you for those five to ten seconds that you are scrolling through Instagram, and I can get you to read that little caption, it makes you think for a minute. The image is beautiful, but I want the words to resonate."
Gutierrez, who works as a professional glazer in Albuquerque, says he walks and drives a lot for his job, which enables him to capture spontaneous moments. He is always on the lookout for interesting things that catch his eye, and says he works to remain present as life is happening and tries not to exert control over things. He says his earliest photographs were of roadside descansos, memorials to those killed on the road, which was his way of offering a prayer for that person.
"That memento mori is our way of saying death is always around," says Gutierrez. "It's not something we're all immune to. It's there."
Death is visible in all of the photographers' work, from the tattooed memorials in Blazquez's portraits to the photograph of Montez's grandmother's gravestone and Gutierrez's photograph of a descanso draped in flowers and a liquor bottle.
In Pico del Hierro-Villa's work, however, death is metaphorical. Their vision for their photo series of queer Mexican and Chicanx people came from an epiphany they had during the pandemic. Del Hierro-Villa says that although they were raised without religion, during the pandemic they found themself drawn to la Virgen de Guadalupe. When their mom got sick, they began praying to la Virgen, which helped them embrace their transgender identity.
"I started to ask her to guide me on these paths of healing. She's a representation of motherhood and acceptance in the LGBTQ community," says del Hierro-Villa. "And in her Indigenous roots, she's the taker of evil and she gives you positivity and light. She's also a representation of death, so she basically killed who I was before, and I was rebirthed. Death became life."
This experience made del Hierro-Villa curious about whether other queer Mexican and Chicanx people had discovered their gender or sexuality through spirituality. Inspired by Humans of New York, the popular Instagram account that chronicles the lives of everyday people in the city, del Hierro-Villa began taking photographs and interviewing people about their experiences. Each of their photos in Tempo y Tiempo is paired with a testimonio written in the subject's own words.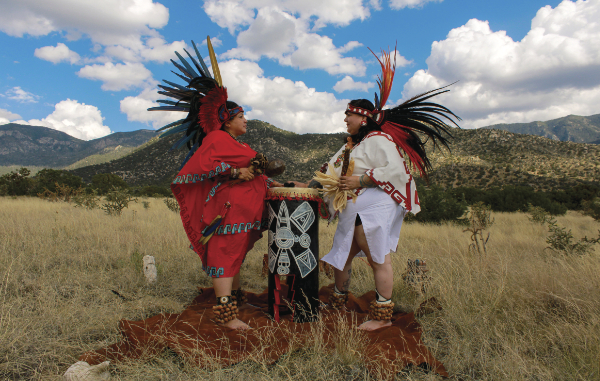 In one photograph, Danza, two women face each other with a tall black drum between them. They each wear feathered headdresses and ankle bells. One woman is dressed in white regalia and the other in red. They stand barefooted on a crimson blanket with juniper-dotted mountains behind them and a brilliant blue New Mexican sky, filled with white cumulus clouds above them. In their testimonies, both women speak about their fear of coming out, their decision to be their authentic selves, and their devotion to the folk tradition of Danza.
Del Hierro-Villa, who is a graduate student at the University of New Mexico, is self-taught and says they picked up a camera just two years ago. Initially, they said they wanted to learn how other queer people were disrupting heteronormative standards, and to document both their images and their stories. As a trans nonbinary photographer in a field that is male-dominated, del Hierro-Villa considers themself to be an example of the ways queerness can disrupt those standards. But they also emphasize the ways that queer art is art for everyone.
"With my art being displayed in that exhibit, it really makes people think about the sort of art that they consume," says del Hierro-Villa. "Just because it's queer, doesn't mean that you can't relate to it."
In a black-and-white photograph, a woman stands with her back to the camera in front of a statue of la Virgen de Guadalupe. The woman's body obscures la Virgen—only the statue's aureole is visible. The woman wears a polka dot shirt that is cut low to reveal a full back tattoo of la Virgen. In her testimonio, the woman writes about her reclamation of la Virgen and her realization that leaving the Church doesn't have to mean abandoning spirituality.
Del Hierro-Villa describes themself as a storyteller, and says they see the other photographers in the exhibition as storytellers, too. Although some photographs in the exhibition grapple with themes of grief and trauma, every photograph is also a love letter to the people, cultures, and places of New Mexico. This comes through in the details that arise from looking closely—the red thread that winds itself through Montez's photographs, the runner in the distance behind Gutierrez's descanso, the clown tattoo on the man in Blazquez's photograph, and the way the women in del Hierro-Villa's Danza photograph clasp each other's hands on top of the drum.
Though each photographer has a different style, the details in their photographs are deliberate and reveal an aspect of New Mexico that is at once familiar and distinct. Ultimately, Tempo y Tiempo is an invitation to slow down, pay attention, and honor the people and places who make us who we are.
Emily Withnall lives and writes in Santa Fe, New Mexico. Her work can be read at emilywithnall.com