Hot In Here
From ceremony to spa days, New Mexico's hot springs get the spotlight at the New Mexico History Museum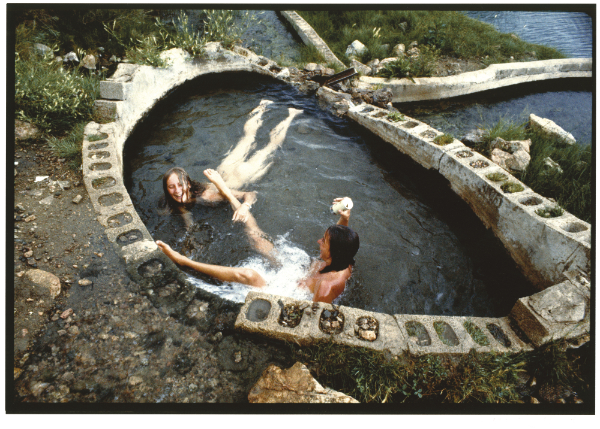 By Paul Weideman
"It's easy in New Mexico to wind down while things heat up," according to a New Mexico Tourism Department guide to New Mexico's hot springs at newmexico.org. However, residents' ability to enjoy our steamy mineral springs is not what it historically was.
Part of the problem dates to the U.S. takeover of New Mexico Territory in 1848. More and more people came from the East trying to seek respite from tuberculosis and other infectious diseases, and entrepreneurs took advantage of opportunities to transform increasingly popular hot springs into businesses.
"A lot of them became privatized," says Dr. Alicia Romero, curator of Nuevomexicano/a history at the New Mexico History Museum. "Some of them were absorbed by the U.S. Forest Service, so you can still get to some of the hot springs in national forests, but a lot were bought by private business owners. That made them inaccessible to the native population. And even if they're available, there are fees that can be prohibitive. Some of them charge $50 for a one-hour session.
"From the research I've done," Romero says, "it seems to be that the people who historically used them are the ones who maintain them today but don't have access to them as visitors."
Curative Powers: New Mexico's Hot Springs will open at the New Mexico History Museum in mid-March. The exhibition will discuss water history, environmental issues, and geology, but its central focus will be on labor. "The topic of our hot springs throughout the state is something we haven't explored before here at the History Museum," Romero says. "There are guidebooks for hikers and other visitors, but nothing with a critical lens."
Looking at the labor that went into creating these spots around New Mexico is a part of their history that Romero is particularly keen to explore. "This aspect comes into play more in the late nineteenth and throughout the twentieth century when hot springs were privatized," Romero says. "I'm interested in exploring how the industry changed from common usage to a more exclusive, tourist-driven clientele. Part of that change facilitated the creation of a labor force needed to maintain the facilities; I'm interested in who those people were/are and if the hot springs are accessible to them."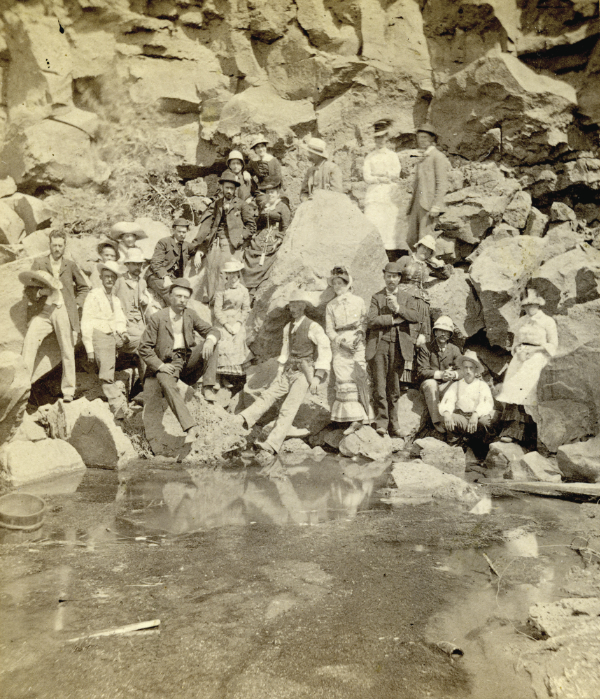 As exhibition curator, she planned to focus substantially on colonial Mexico, or pre-American settlement. During our interview, a few books on Romero's desk were simple guidebooks to hot springs. Another offers a scholar's viewpoint: Virtuous Waters: Mineral Springs, Bathing, and Infrastructure in Mexico (University of California Press, 2018) by Casey Walsh.
"I tried to go back before the Spanish arrived, but from what I can tell, there wasn't much use of hot mineral springs," Walsh says by telephone. "People in the Americas bathed in sweat lodges—temazcales, they called them."
These were adobe or masonry buildings where users threw water on hot stones to create steam. In his book, Walsh, chair of the anthropology department at University of California–Santa Barbara, writes that bathers "would symbolically enter the underworld when they passed through the door of the temazcal."
By the end of the 1500s, the immigrants in what was called New Spain were building bath houses at natural hot springs. "In Spain, they had kind of outlawed bathing," says Walsh. "They thought it was basically Islam and Judaism that had the bathing cultures, and so it was suspect. Many mosques would have a bath house attached to them, a vapor bath. The Christians were also worried about the Roman history of decadence."
In Virtuous Waters, Walsh goes into great detail to explain bathing traditions in medieval Spain: "Within the medical model elaborated by the Roman physician Galen, to which most doctors adhered well into the eighteenth century, bathing was important for carrying off the remains of digestion, which formed one of six groups of things—called 'non-natural' or 'necessary' things—that were not intrinsic to human bodies. Bathing, exercise, and sex, all of which produced sweat and the emission of fluids, eliminated the remnants of these things from the body, and following Aristotle, balance and moderation was considered the correct way to deal with them."
By contrast, bathing by immersion of the entire body in hot water or steam was considered an extreme act.
"When they got to the Americas, they saw this bathing where men and women would go into these temazcales, so the Catholic priests were definitely worried about that; they thought of it as heathen and decadent."
In his book, Walsh relates that the conquistadores often recorded "how well-groomed the Indigenous people were owing to their frequent washing." But the religious and sexual practices associated with it were "unacceptably offensive." Nevertheless, some Spaniards built temazcales in their homes. And today, residential saunas have endured in the greater Mayan region for at least 1,200 years.
Romero's emphasis on restricted, commercial use of natural hot springs was also an underlying theme of Virtuous Waters. "Certain people wanted to control these rare and special sources," Walsh says. "There are longstanding popular uses, but people would come in and try to turn them into businesses, building big, fancy bathhouses and charging money."
Mexico may have the edge on New Mexico when it comes to preserving access for the poor. "That's a characteristic of Mexico. It's a negotiated relationship of class. It's very difficult for the ruling classes there to actually impose themselves on people, and so a lot of the traditional activities are maintained."
The European settlers ultimately sanctioned bathing in mineral springs, but only because of the springs' reputed health benefits.
"Spanish-speaking people knew the value of hot springs when they started migrating to what is now the American Southwest," Romero says. "There were springs all over Mexico and they were used for communal bathing; it was not always something you did in private. And they've always been used for their healing properties."
Indigenous people were tuned in to all features of the landscape and probably revered hot springs as therapeutic. "But the belief that there were curative properties came full-force with the Americans and the establishment of sanatoriums," Romero says.
"Thermal activity along the Rio Grande rift and elsewhere had turned a series of natural springs into heated pools," author Nancy Owen Lewis writes in Chasing the Cure in New Mexico: Tuberculosis and the Quest for Health (Museum of New Mexico Press, 2016). "Rich in mineral content, they were thought to have therapeutic properties capable of curing a variety of ailments, including incipient tuberculosis. … By 1880 Ojo Caliente mineral springs, fifty miles north of Santa Fe, offered accommodations for sixty guests. The resort attracted hundreds of invalids eager to soak away their rheumatism, skin complaints, and kidney problems."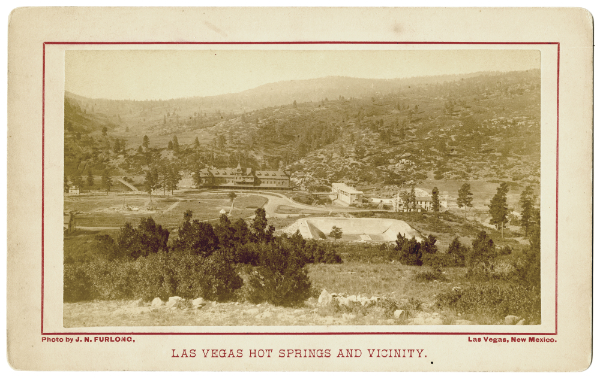 In the late 1800s, the railroads promoted hot springs. Most noticeable in the historical record is the publicity about the Montezuma Hotel built by the Atchison, Topeka & Santa Fe Railroad at the site of a famed hot springs near Las Vegas. First erected in 1882, it was rebuilt twice after fires. The third hotel, dating from 1886, still stands. It is now the heart of the campus of United World College–USA.
Montezuma Hot Springs recently reopened to the public.
"The hot springs have been a free community resource for generations here in San Miguel County, and yet the considerable liability issues and costs of managing the baths were becoming an issue for the school," says Carl-Martin Nelson, UWC-USA director of communications.
After the college held a series of public meetings about the hot springs, local residents formed a nonprofit, Friends of the Montezuma Hot Springs, which leases the site from UWC-USA. "It took almost three years, Covid hampered the efforts, and it wasn't always pretty or easy, but we all persevered working toward a goal and we made it," Nelson says.
Information about access to the springs can be found at the Facebook site of Friends of the Montezuma Hot Springs.
There are ten other natural, noncommercial hot springs listed in the New Mexico Tourism Department guide:
• McCauley and Spence, near Jemez Springs
• Black Rock and Manby, west of Arroyo Hondo [but the road to Manby Hot Springs is no longer open; it was closed in 2021 because of overuse and littering during the pandemic.]
• Gila, House Log Canyon, Lightfeather, and Turkey Creek, in the Gila area
• Bubbles Hot Springs, near Silver City
• San Francisco, near Pleasanton
Temperatures in these springs are typically around 100 degrees, but there's a caution for the Lightfeather feature: "The hot springs themselves are very hot (about 149 degrees F) and will scald you if you sample them near the source. The only way to enjoy the hot water is in one of the rather ephemeral rock-lined pools along the river where the hot-spring water mixes with the cold river water, making for a comfortable bath."
According to the guide, clothing is optional at about half of these mineral springs. In Richard Melzer's 2011 book New Mexico: Celebrating the Land of Enchantment, the author tells us that "Spence Hot Springs allowed nude bathing on Sundays and Mondays but required bathing suits the rest of the week. Visitors who got their days confused faced a $25 fine."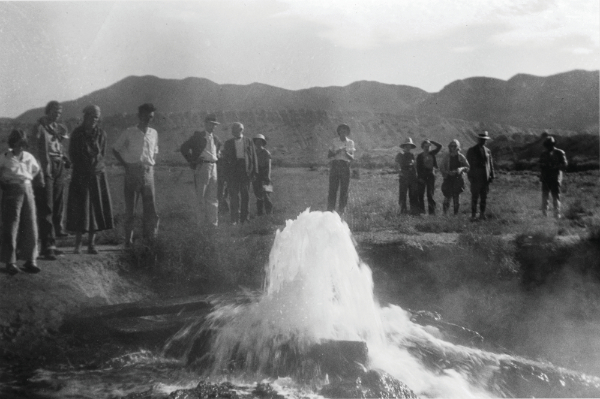 Today, says the Tourism Department, the Spence pools "set in beautiful locations" are very popular and also have "a reputation as a hangout for nudists."
The image of folks enjoying steamy outdoor waters au naturel might call to mind sixties counterculturists, but their delectations were nothing new. "I would think that Native people also did not have a stigma of shame attached to one's natural state," Romero says.
Today, you have to be strategic about pursuing such delights if you don't want to "get into hot water." Some commercial springs are, instead, all about how you can conduct yourself. "And whether children are allowed," Romero says. "I saw one advertisement indicating that if you take children they have to be silent. People walk around with a paddle saying Hush, because it's now a luxury experience. You'll interrupt people having a meditative experience. It's very different from a century or two ago."
This evolution of the use of hot springs, as well as their cultural and economic impact on New Mexico as it evolved over the centuries, features prominently in Curative Powers, currently scheduled to be on display March 18 through September 4, 2022.
—
Paul Weideman has written about archaeology, historic preservation, architecture, real estate, art, and culture for The Santa Fe New Mexican and other publications for 30 years. He is the author of the 2019 book ARCHITECTURE Santa Fe: A Guidebook.