Inside Out
Chemists, archaeologists and historians collaborate to test Coronado artifacts
By Hannah Sherk
Los Alamos National Laboratory typically calls to mind cutting-edge advances in national security, but a recent project had its scientists looking back to a nearly 500-year-old conflict. LANL chemists, in a partnership with archaeologists from the Coronado Institute, are using high-tech instruments to examine artifacts from a long-buried battle.
In 2018, after sixteen months of careful searching, a metal detector survey unearthed a trove of artifacts at Coronado Historic Site in Bernalillo. These objects, which include items like lead shot, projectile points, and sling stones, have helped to solidify an uncertain history. The nature of the finds suggests a conflict between Spanish conquistador Francisco Vázquez de Coronado and the people of the Kuaua Pueblo sometime between 1540 and 1542.
In an interdisciplinary collaboration, LANL analytical chemist Dr. Brian M. Patterson proposed using lab technology to examine delicate artifacts using non-invasive imaging. Coronado Institute Executive Director Dr. Clay Mathers sent the lab two objects from the Bernalillo dig: a votive pendant and a crossbow bolt head.
"The technology that we have been developing at Los Alamos and wanted to use for this project is confocal micro X-ray fluorescence (XRF). That's kind of a mouthful," Patterson laughs. "But what that means is, we can hit the sample with an X-ray… and it identifies the elements and where they are located."
This technology is not available anywhere else in the world; in fact, one machine used in this project was built at LANL. It's especially apt for this type of study, because whereas other dating techniques require samples of the small, delicate artifacts, which would damage them, XRF technology is able to study the artifacts without damage. This technique for determining the artifacts' chemical composition effectively dates them, confirming that they date back to around 1540. The traces of copper detected are indicative of the smelting techniques of the time period.
By combining this XRF technology with other analytical techniques to study these objects, the LANL team produced high-resolution 3D images showing the interior of the archaeological finds. In other words, they've helped the Coronado historians look below the fragile surface to explore these objects from the inside out. This technology is so precise,
"we can image moderately sized material in 3D all the way down to very high resolution, where a human hair is actually too big," Patterson says.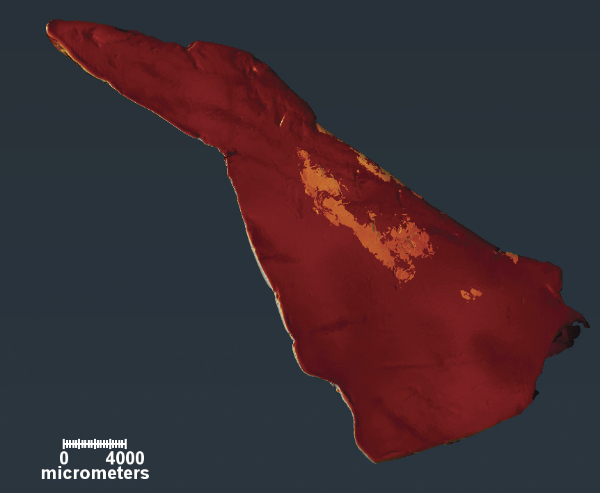 The material makeup of these artifacts could help historians understand the story that has been buried under Bernalillo soil for centuries. The technology has already helped the Coronado team definitively date one of their finds: The materials found in the crossbow head allowed scientists to confirm its chronological and geographical origins. In an email interview, Mathers writes, "With respect to the copper crossbow quarrel, the results we received were entirely in line with our a priori expectations: that is, the object was nearly pure copper and consistent with XRF analyses undertaken on other copper objects known from both the Vázquez de Coronado entrada, and other sixteenth-century expeditions elsewhere in North America."
By using this technology, LANL chemists can break down each object's ingredients. The Coronado archaeologists are then able to begin interpreting the lab's results as a kind of chronological recipe, linking the materials to a corresponding timeline. Each recovered weapon and tool helps these historians piece together the story of European conquests, raids, and attacks in what is now the Southwestern United States.
Mathers can see the utility in continuing to share expertise and technology between historians and chemists. "Further collaboration between experts in physical and social sciences, of the kind represented in this research," he says, "might help to move XRF and other analytical tools into more commonplace archaeological applications."
—
Photographs courtesy Los Alamos National Laboratory.
Hannah Sherk is an English teacher, writer, and editor living in Portland, Oregon. She attended St. John's College in Santa Fe before finishing her B.A. in sociology and anthropology in North Carolina.