This Old House
A perennial favorite survey of Santa Fe's notable buildings gets a revamp
By Paul Weideman
Santa Fe's history lives in its buildings— in the places where people lived, worked, played, studied and worshipped during the past several centuries.
Many of the buildings are wonderful in themselves; as examples of adobe construction, for instance. And in both the buildings and their people, we realize the importance of historic preservation.
One esteemed survivor is the Otero-Bergere House on Grant Avenue. It was built by the U.S. Army in the 1870s as an officers' residence. In 1901 it was the home of Alfred Maurice Bergere, an English immigrant, Santa Fe merchant, and county clerk. His wife, Eloisa Luna Otero-Bergere, the sister of Territorial Governor Miguel Otero, purchased it in 1905 for $270.
The house remained in the family until the 1965 death of Otero's daughter, the intrepid suffragist Adelina "Nina" Otero-Warren. A member of the Luna family of Los Lunas, she also served as Santa Fe County's superintendent of public schools, chaired the New Mexico Board of Health, and penned the book Old Spain in Our Southwest. Today, the house is the Georgia O'Keeffe Museum Research Center.
This is one of nearly 100 buildings and other historic features profiled in the new, fifth edition of Old Santa Fe Today. Published by Museum of New Mexico Press in association with the Historic Santa Fe Foundation, the book is 288 pages, with 255 photographs. Originally published in 1966, it was last updated to its fourth edition in 1991. (Full disclosure: The author of this article also contributed an essay to the newest edition of the book.)
Most of the featured properties were built as houses, dating back as far as the early 1700s. Many are still used as residences; those in other uses include the Rafael Borrego House, now the restaurant Geronimo; the "Oldest House," long a tourist attraction; El Delirio (the Amelia Elizabeth and Martha Root White House), now the home of the School for Advanced Research; and the James L. Johnson House (El Zaguán), now the home of the Historic Santa Fe Foundation.
Another thirty or so of the entries are nonresidential and wide-ranging. There's the venerable Palace of the Governors, the New Mexico Supreme Court, San Miguel Chapel, Fairview Cemetery, the restored 1894 Hydroelectric Power Plant, La Fonda, El Puente de los Hidalgos, and St. Catherine Indian School.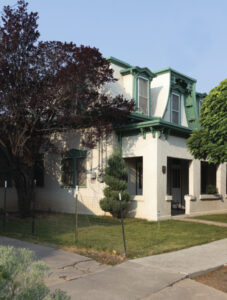 "This book brings it all together for the reader or for a tourist or someone walking through the neighborhoods," Audra Bellmore, who wrote the text for the book, says. "Not only can they see the sites individually, but they can see them as part of neighborhoods and as part of streetscapes and get a sense of the historic scapes that are still viable in Santa Fe. The book is an accessible and useable way to maneuver through those historic districts in Santa Fe." Touring the properties is made easier with a series of neighborhood maps by Deborah Reade Design. "What we tried to bring out with each property was the story—not just who lived in it and when, but why these stories might have meaning and significance."
Bellmore, a Michigan native, came to the University of New Mexico sixteen years ago. She is an associate professor in the Center for Southwest Research and Special Collections, curator of the John Gaw Meem Archives of Southwestern Architecture, and adjunct professor in the Museum Studies Program. She holds a doctorate in history from Loyola University.
Her work on Old Santa Fe Today amounted to a total rewrite. "History evolves, and some things weren't correct. The Palace of the Governors and the Center for Southwest Research were our primary research sites, and they simply have more collections than they had back then.
"I also wanted to standardize the entries, instead of having some entries written in 1962, some in the 1970s, and some in the 1980s, with different styles. They all have an introduction and tell that historical story of who lived there at what time, but they also talk about the look, the architecture, and also if I could find information that represented the streetscape or the neighborhood. Then to finally pull it all together with a significant statement like you might see in a national or state register nomination—like, 'So what? Why is this important?'"
Bellmore already knew a lot about Santa Fe's architecture, including the many buildings by John Gaw Meem, because of her work at the Meem Archives. But this book project resulted in a broader knowledge of the different styles represented in Santa Fe. "And the history of Santa Fe is similar to the history of many towns in New Mexico, so in a way it's been a model for me to learn about many communities."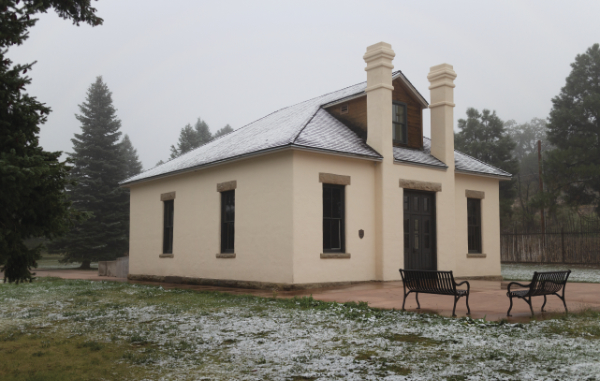 For her research, she had easy access to the substantial Meem Archives at UNM, but the pandemic had closed the Palace of the Governors Photo Archives and History Library. "I also could have found great information in the city files on properties, but they were also closed. It was a very tricky time. Some people didn't want anyone to come inside their homes, or even into their courtyards."
Simone Frances, who photographed nearly eighty of the properties for the new book, writes in an email, "Overall, property owners and managers were incredibly generous and open to assisting in facilitating this project despite the complications of Covid-19 concerns and precautions.
"Carl Beale of Randall Davey House Audubon Center & Sanctuary was especially kind as I was shooting while on crutches after breaking my ankle photographing houses in Kansas a couple weeks earlier. John Adams of the Scottish Rite Temple was a wealth of knowledge and very accommodating, which resulted in some great long exposure images of the theatre."
Frances is a writer and architectural photographer based in Santa Fe and in coastal Maine. She earned her BFA in photography from the College of Santa Fe and her MFA in photography at UNM, and she was a fellow at the Center for Southwest Research and Special Collections. Since 2011, she has worked for photographer Anna Strickland, a master printer and longtime professor at the Rhode Island School of Design. Frances is at work on her second photography book, No Is A Place, "a collection of architectural photography centered around museum, performance, and other exhibitionary spaces," she writes.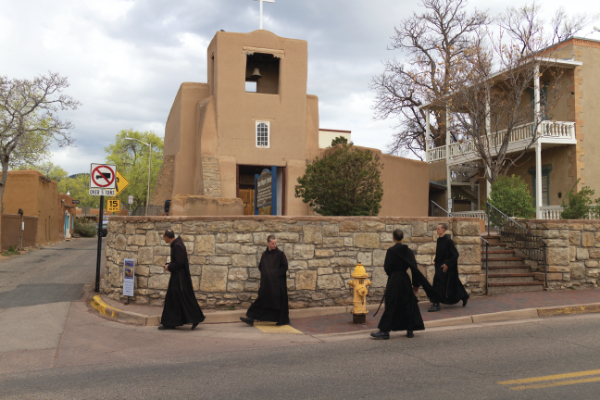 Her photos for Old Santa Fe Today include one of San Miguel Chapel with a quartet of long-robed Franciscans walking in front of the edifice. Also striking, "the Cyrus McCormick house [Las Acequias] in Nambé was one of my favorites, because the property is stunning and the light was orange that day and I could hear peacocks in the trees," she recalls.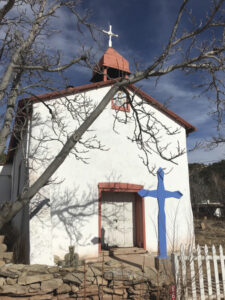 Some of the book's entries are longer, with at least four photos rather than one or two. "Simone kind of got free rein to shoot what she wanted to shoot," says Melanie McWhorter. "I facilitated connections with owners. And we asked the owners to be there with her to let her know that certain things—maybe a significant pottery collection shouldn't be photographed; and if there were important historic features, we asked them to point those out to Simone."
McWhorter, deputy director at the Historic Santa Fe Foundation, zeroed in on Frances because of her photography connections. In her business, Melanie McWhorter Photography Consulting, she works with clients on photo-book projects. A dozen of Old Santa Fe Today's photos are by McWhorter. Her color photos and those by Frances contrast with more than eighty historic black-and-white images.
Finding Bellmore was serendipitous for McWhorter, who was the Foundation's primary organizer of the book project. Bellmore brought her UNM students to El Zaguán one day for a class she was teaching in the Museum Studies Department, looking at historic sites in Santa Fe and Taos. "Melanie gave all my students copies of the old Old Santa Fe Today, and I said, 'That's really nice, but you really need to update this book,'" Bellmore says.
"I raised my eyebrows," McWhorter recalls, "because our board of directors had talked about doing just that for a long time. So I asked Audra, 'Would you consider writing it for us?'"
The book's new edition got started in November 2018, when the Historic Santa Fe Foundation's director, Peter Warzel, and McWhorter got a go-ahead from Museum of New Mexico Press.
Funding was achieved in 2020 with donations from about fifty individuals and businesses, and grants from the Historical Society of New Mexico and from the National Endowment for the Humanities via the New Mexico Community Foundation.
The new book is more than twice as large as the previous edition from 1991. Significant additions include El Delirio, Church of the Holy Faith, Marian Hall, La Fonda, New Mexico Museum of Art, St. Catherine Indian School, the Scottish Rite Center, and the Laboratory of Anthropology Director's Residence.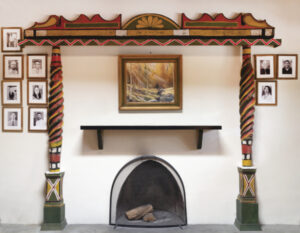 There are also eleven entries from the old version that aren't in this one, among them the Cathedral Basilica of St. Francis of Assisi, the Santa Fe Plaza, Cristo Rey Church, and the Santuario de Guadalupe, due to not being included in the HSFF register. That register, which HSFF began in 1962, lists historic buildings (and larger features like the Acequia Madre and Fairview Cemetery) that are researched and receive HSFF plaques inscribed, "Register of Properties Worthy of Preservation."
"For the new edition of Old Santa Fe Today, we decided to focus just on the register properties," Warzel says.
Longtime HSFF board members Alan "Mac" Watson and Nancy Owen Lewis reviewed every entry for the book. "I'm really proud of this. It was a really great team effort," says McWhorter. She adds that the foundation is planning an Old Santa Fe Today app, aided by a state grant.
—
From November 4-28, 2022, El Zaguán hosts an Old Santa Fe Today exhibition. Check in at historicsantafe.org to find out about associated activities.
Old Santa Fe Today, 5th ed., by Audra Bellmore (Museum of New Mexico Press, 2022). Photographs courtesy of the publisher.

Paul Weideman has written about archaeology, historic preservation, architecture, real estate, art, and culture for The Santa Fe New Mexican and other publications for thirty years. He is the author of the 2019 book ARCHITECTURE Santa Fe: A Guidebook.